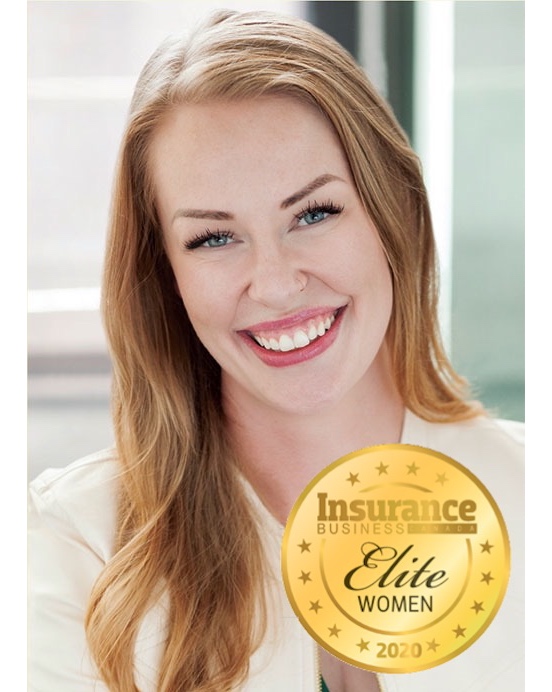 Chelsea Fitzpatrick, Park Insurance Agency Ltd
Vice-President of Operations and COO
---
The entire family at Park Insurance would like to offer a HUGE congratulations for our VP of Operations/Marketing and COO – Chelsea Fitzpatrick! Chelsea has been honored by Insurance Business Canada (IBC) as one of the industry's Elite Women for 2020. 
For the uninitiated, IBC's Elite Women program shines a spotlight on groundbreaking women in an industry that has traditionally been dominated by men. The task of choosing the 45 finalists for this year's awards was one of IBC's most challenging ones to date, and that's great to hear!
Why? Because it proves that a greater number of women have joined the field of insurance and have climbed the executive ranks. In fact, 40% of women in the industry hold executive level positions, some of which lead all the way to the top (CEO). More importantly, they are thriving during one of the most challenging economic and sociopolitical times this world has ever seen. The tides are finally turning as the gender gap closes and we're proud to say that Chelsea has been an instrumental part of this undertaking.
Of course, we also have our biases for singing her praises today. Since Chelsea took the helm as VP of Operations and COO at Park Insurance she has delivered the brokerage into the new era of digital transformation while making employee empowerment a priority in the process. Over the past couple of years the company's overall satisfaction scores have skyrocketed from 72% (very good) upwards to an average of 94%! And you know what that means – happy staff equals even happier clients. Customer service has gone through the roof in every positive way possible. What really has us excited however, is that Chelsea is just getting started. We wholeheartedly look forward to what she has planned for the future as she contributes even more to this dynamic field.
We would like to conclude with a shoutout to the trailblazers in the industry…women who entered the field of insurance years ago when there were few accolades for their hard work and significant contributions. Without you the industry as we know it would not be the same. We hope that you too are proud of all of the women on this year's impressive list, and all of those who continue to expand on your legacy today, and tomorrow.
---