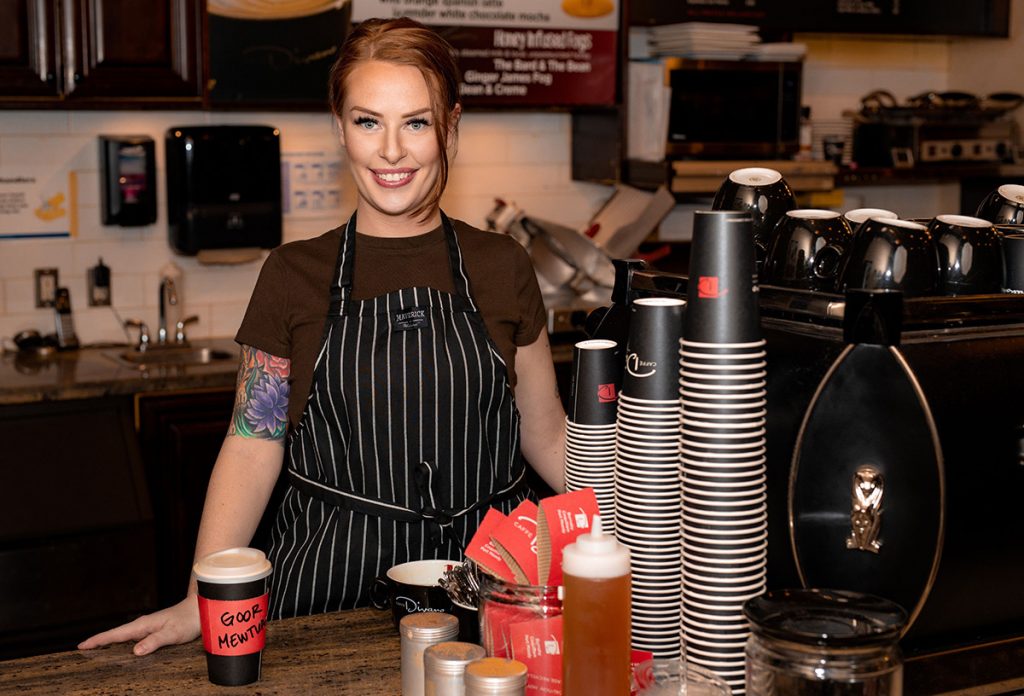 Recognized for her innovative mindset, commitment to her team and community (and a passion for espresso), our Vice-President of Operations and COO Chelsea Fitzpatrick was featured in a Gore Mutual bio piece this past month.
For the unfamiliar, Gore Mutual runs a popular content series on insurance industry game changers. We were very happy to see Chelsea recognized for her role as one of the modern visionaries in our industry. It has been quite the summer for our COO, as she also recently received the nod as an IBC Elite Woman of the Year for 2020.
The Gore Mutual interview was conducted from the comforts of Caffé Divano (aka our second office) which made perfect sense. Not only does Chelsea and our team hit the cafe most mornings to fuel up to service clients for the day ahead, the setting speaks to one of Park Insurance's core values:
"One of the many things that Fitzpatrick is proud about at Park Insurance is the organization's strong focus on both their internal and external communities. The brokerage partners with local businesses to host quarterly personal development days to help employees learn about personal and mental well-being topics such as mindful meditation, nutrition, financial health and psychology. Wanting to actively support their neighbourhood, staff are also regulars at many of the area businesses." (Chelsea Fitzpatrick: Breaking the Mold, Gore Mutual – July 24/20)
While it is an absolute honor to be featured, Chelsea will be the first among us to point out that it's not about the accolades. Instead, she's happiest about the exposure it provides to the community causes that Park Insurance cares so deeply about, such as the support of local charities through the Month of Caring. The article also delves into our COO's dedication to improving workplace culture and employment satisfaction, which she hopes will serve as an example for other organizations throughout the city, province, and country.
It's honestly very satisfying to find that industry leaders are being recognized in the mainstream for more than productivity and profit margins. We're so proud of Chelsea! That said, we must admit that one quote from this recent article has us somewhat concerned. We fear we may lose her to behind the counter of her very own cafe one day:
"If I wasn't working in insurance, I'd be a barista. This has been my lifelong dream job. Cafés, like my favourite Caffé Divano, are important in the community, serving as a meeting place for celebrations, intimate conversations, job interviews, first dates, book clubs, study groups and unofficial offices. A barista doesn't just pour coffee, they help facilitate an environment for these interactions to thrive. They are there to help others, something that I feel called to do."
View the full article feature here: Chelsea Fitzpatrick: Breaking the Mold