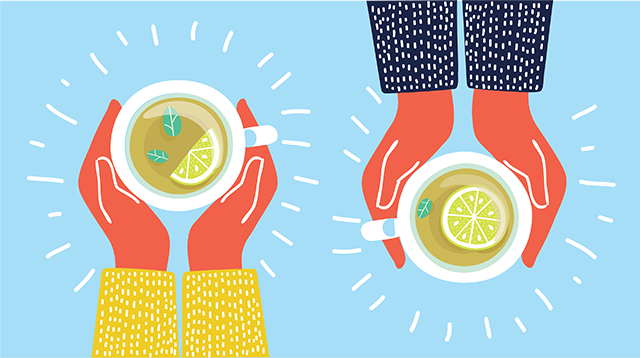 "Let's have some TEA!" A familiar and much-loved phrase to many around the world.
Google recently put a spin on this age-old opportunity for little downtime and a good gab.  Managers are encouraged to say, "let's have some TEA", an acronym for thoughts, energy and attention. The activity uses simple questions to help identify common points of stress. It allows people to identify how they are feeling in that moment and helps them be proactive about managing stress.
Recognizing the Growing Need for Mental Health Support in the Workplace
Google is certainly not alone in recognizing the need for increased mental health support in the workplace. The World Health Organization (WHO) reports that globally, an estimated 264 million people suffer from depression with many of these people also suffering from symptoms of anxiety. They recently led a study that estimates depression and anxiety disorders cost the global economy US$1 trillion each year in lost productivity. But, recognizing a need, and knowing how to respond to it, are two very different things.
For those of us managing small to medium sized businesses, we may feel that we don't have a "google-sized" budget to throw behind this issue. So, what can we do to effectively address such a complex challenge?
Like everyone else, we are all learning as we go. But, over recent years, at Park Insurance, we have put significant focus on promoting a positive company culture. Our Chief Culture Officer, Natasha Purnell, knows the importance of keeping the lines of communication open. She says, "We have doubled down on communication. When you think that you are communicating too much, you are communicating at just the right amount!"
It is extremely important to us that we support our team's mental health and general well-being, and at the same time support our community, as a whole. So, we'd love to share some of the activities and initiatives that we have utilized in recent years. We hope some of these ideas will prove helpful in supporting your team:
Providing staff 20 minutes to take a Wellness Break.  We encourage our team to use the 20 minutes to go on a walk and get some fresh air. But, it could also be a meditation break. Or a retail therapy break!  Whatever they need that day.
All our top leaders are trained and certified Mental Health First Aid responders.  This certification has helped our leaders promote mental health among colleagues, develop a common language and understanding of workplace mental health issues, break down barriers and improve our culture.
We provide extended health and dental benefits to our employees, which is paid for 100% by us. It includes amounts for extended health such as massage therapy, psychology, acupuncture, physiotherapy, etc.
We offer our team quarterly professional development days that are also beneficial for mental well-being such as HeartMath and nutrition. Even during the Covid-19 pandemic, we have hosted workshops such as a Financial Health Check workshop and a Putting Humor to Work seminar.
For almost two years, we have done a quarterly physical/mental challenge that have included a plank challenge, step challenge, a gratitude journal challenge, squat challenge, push-up challenge and coming soon a sit-up challenge.  These challenges have bonded employees from different departments, locations and walks of life.
Since the majority of our staff have been working from home during the pandemic, staying connected has been extremely important for promoting mental health. So, we have developed fun virtual activities for staff including Happy Hour, Lunch Roulette, "water cooler" meetings, meet-and-greets for new employees, staff parties, chef led tutorials and holiday celebration.
We have seen many positive results from these initiatives. They have contributed to a positive, fun and empowering culture. Team surveys indicate increased employee satisfaction, and we were honored to win the Healthy Workplace Award from the Burnaby Board of Trade (BBOT) in 2019.
Do you have some ideas that have worked well for your team?  We'd love to hear them.  Give us a call and we can connect over a cup of TEA.