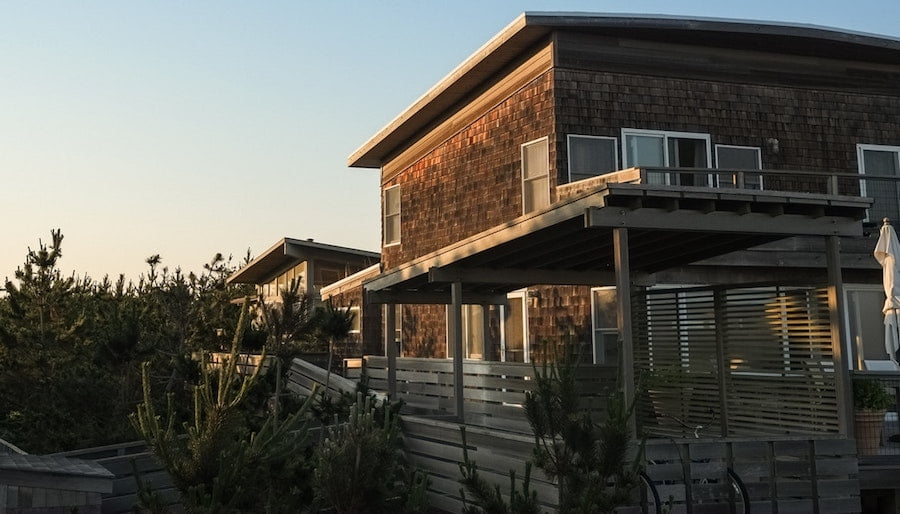 Vacation homes are put to good use all year long in our neck of British Columbia, thanks to the moderate climate and bounty of outdoor recreational amenities through the four seasons. Of course, the summer is an especially exciting time for vacation property owners, but while there are numerous leisure and rental revenue opportunities to come in the months ahead, there are liability concerns that need to be addressed. As the province's premier provider of homeowners insurance, Park is here with some advice on how to mitigate the unique risks that come with owning and managing a vacation home.
5 Tips to Minimizing the Insurance Liability Concerns Surrounding Your BC Vacation Property
1. Prepare Your Property for Summer Forest Fire Season
Wildfires are a natural hazard (sometimes caused by unnatural means) in any forested and grassland region in Canada and yet BC has the highest rate of occurrence in the entire country. Vacation homes are especially susceptible to damage because they tend to be located near high risk zones. While you may feel powerless against this seasonal threat, there are preventative steps you can take to buy your property some time until fire crews arrive.
For one, have the exterior inspected for anything that can invite a forest fire to approach and engulf the area at a greater rate. Keep the landscape watered and trim and remove debris (garbage, dried compost, etc.) to keep it from becoming kindling. Given that you may not be at your vacation home at certain points through the season, it is a good idea to hire a service to maintain the exterior so that it does not become dry and overgrown.
In addition, make sure that all combustibles are stored away in a safe space, or completely removed from the property if you will not be taking up occupancy at any given time. This includes propane tanks for BBQs in addition to oil and gas cans in an outdoor shed or by the garage/carport. Scrub the driveway clean of oil and gas stains too, as they will draw spark and flame alike to your home.
View this complete five item checklist on how to protect your home from forest fires.
2. Be Wary of Water Damage 
Water damage is a persistent concern for any homeowner, but when you consider that a vacation property is vacant for sporadic periods, the potential for trouble is compounded. There is nary a scarier scenario than a leaky faucet with no one around to notice and fix it. Thankfully, there are steps you can take to reduce the risk of water damage to your vacation home.
Starting with the interior, be sure to have your pipes, hoses, faucets, and water tank inspected for wear and tear, and replace/repair as needed. Turn off the water valve for periods that the home will be vacant, but take note that if you've never shut off the main water valve before, test it first. You can run the test by turning on a faucet somewhere in the home and then shut off the main water valve. Return to the faucet and verify that all water flow has stopped. Remember to exercise caution when handling an old gate valve, as it can break when using too much force. You may also want to consider installing a backflow prevention system in addition to a flood monitoring system that will send an alert at the first sign of concern.
There are preventative steps you can take with your vacation home's exterior too. These include roof, gutter, and downspout maintenance and repair in addition to weatherproofing the exterior trim around doors and windows.
View this infographic on how to prevent water damage in the home and also follow these four tips to keeping your vacation home safe from natural flood hazards in BC.
3. Extend Emergency Preparedness to Your Vacation Home Too
When you hear that less that half off all Canadian households have an emergency kit, you can draw the likely conclusion that the statistics are even worse for vacation homes. This puts you and vacation rental occupants (as applicable) at risk. The latter is of unique importance, given that homestay sites (more on this below) such as Airbnb have terms and conditions that ask you to be a responsible host and provide renters with safe accommodations. There could be insurance liability implications for those vacation homeowners that do not.
Starting today, put together an emergency kit for your vacation property, and put an emergency response plan in place that considers tsunamis, earthquakes, heavy storms, and fires. This step-by-step guide from Park Insurance will help you accomplish all of the above.
4. Protecting Your Vacation Home on Airbnb and Other Similar Services
Like many BC vacation homeowners, you may be taking advantage of homestay service sites like Airbnb and VRBO to generate revenue when you're not physically enjoying the property itself. While potentially lucrative, you must take steps to reduce the liability risk that comes with it.
For starters, read through the terms and conditions of each respective service to make sure you understand what is and isn't covered through them. Also, inspect the profiles of potential renters with great care, reading through the feedback provided by homeowners they have previously rented from. If they have never used the service before, and your home is the proverbial guinea pig, you may prefer to let them cut their teeth with another renter before giving them a shot.
But there's more.
In addition to taking reasonable measures to keep the home (and short term occupants) safe from natural hazards, you will also want to keep the house safe from break-ins and vandalism given that you cannot expect vacationing renters to exercise the same cautions you would when you are there. View these 3 steps to protecting your vacation home when taking advantage of homestay services.
5. Have an Independent Insurance Broker Review Your Vacation Home Policy
There's only one way you can gain complete peace of mind when it comes to all insurance liability concerns surrounding your vacation home in BC. Talk to an independent broker who specializes in homeowner's insurance including vacation properties. In working closely with you to assess your needs as they apply to the physical location and condition of the home, they ensure that your policy covers every variable and contingency that can occur while you are at and away from your property, no matter the season. Contact Park Insurance today.