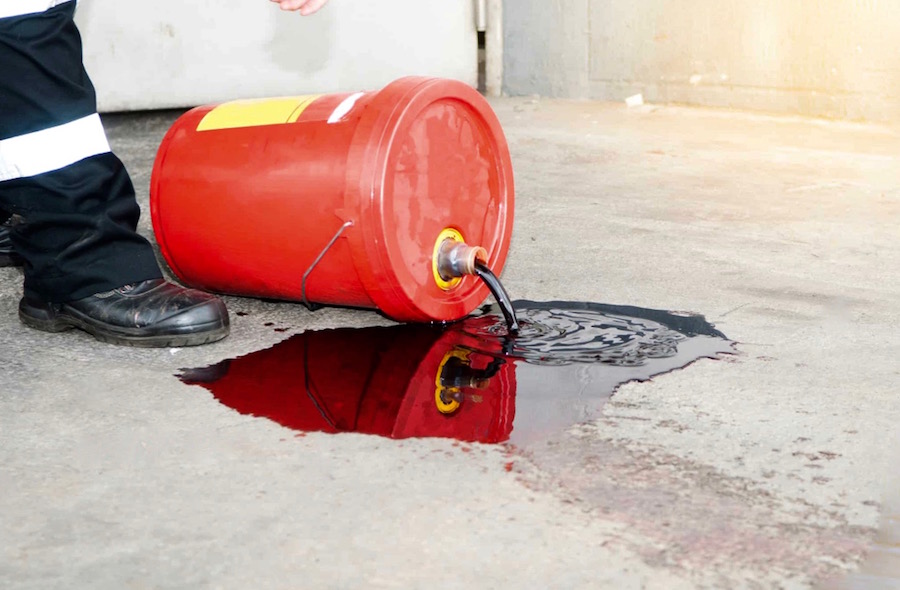 After witnessing forest fires ravage the landscape of BC over the past few summers we released an article on how to protect your business from the threat. Within, we called upon brick and mortars to remove combustible liquids from the premises. This not only protects your shop or office from an approaching blaze, it prevents your business from being the one to ignite a fire in the first place, at any time of the year. As you know, the latter scenario can result in irreparable damage and even financial ruin should you be found liable. Today, we're going to take a look at how taking practical steps to manage flammable liquids can greatly reduce this risk.
4 Ways Your Business Can Be More Mindful of Flammable Liquids to Prevent a Fire and Reduce Liability Risk
1. identify THE RISK
Before you learn what to do with flammable liquids, you need to know what they are in the first place. Some are obvious, such as oil and gas, but other not so much. It all comes down to the flash point. By definition, the flash point is the lowest temperature at which a liquid can begin to burn in air near the surface of the liquid. The lower the value for a given liquid, the easier it is to ignite. According to the Canadian Centre for Occupational Health and Safety (CCOHS) flammable liquids have a flashpoint below 37.8°C while combustible liquids have a flashpoint at or above 37.8°C and below 93.3°C.
It's important to note that these liquids do not burn on their own, as it's the mixture of their vapors and air that causes ignition. Canada's Workplace Hazardous Materials Information System (WHMIS) requires that suppliers properly label and make public safety data sheets (SDSs) available for hazardous products sold, distributed, or imported into the country. Be sure to read the labels of concerning liquids introduced in your commercial space. If the flash point is not listed, visit the brand/manufacturer website for product specifications. Review the details regarding flammable liquids in Canada on the CCOHS website here.
2. smart storage
Right at this very moment your business likely has common flammable liquids on site, including paint, paint thinner, oil, gas, cleaning solution, solvents, and so forth. Ask yourself, are they all necessary to day to day operations? If not, remove them from the premises and store them safely away at another convenient site where neither the public nor your products and physical space are at risk. For those items that you do need to keep on site, organize them and place them in a flame retardant bin and place the bin in a cool, dry storage space. In addition, keep them away from kindle. Storing flammables near documents, styrofoam, wood, dry waste and anything else that looks and feels like it would send smoke up a chimney is a bad idea.
If you actually sell flammable liquids, you certainly can't tuck them all away in storage, but you can display them away from hazardous zones. For example, make sure that they are not facing direct sunlight which can cause them to overheat on a hot summer day. Also avoid displaying them near heaters or anything that can incite a quick rise in temperature. Lastly, consider displaying only a small number of flammable liquid products on the shop floor, and keep the rest stored in the aforementioned flame retardant containers until inventory replenishment is required.
3. Clean up OLD spills
Contained flammable liquids aren't the only threat. Some are already roaming the floors in or around your business, especially in the warehouse, driveway, and/or back alley. Vehicle oil and gas leaks, liquid material spills, and poorly mopped cleaning solutions from days or weeks ago may have formed a dangerous film. The transparent layer may ignite and spread throughout your business at the drop of a match, or spark. Inspect all floors in addition to a 30-foot radius of the roads and paths leading to your establishment. If there appears to be a patch of old oil, gas, chemicals, or grime in general have it professionally cleaned right away. Moving forward, institute a stringent clean-up protocol for the floors of your commercial space.
4. top up your commercial insurance
Even when you follow the protocol above, commercial fires connected to flammable liquids are an ever-present risk. The only way to fully protect yourself and mitigate liability risk is to make sure that you have the most comprehensive commercial property and commercial liability policies possible. Safely store those flammables then follow up by having an independent broker review your existing policy to assess your risk. Contact Park Insurance today.