Available Positions
Interested in working with one of Vancouver's leading independent insurance brokers?
What would it be like? You would: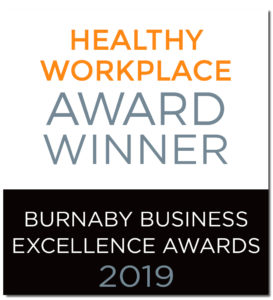 Get the career opportunities of a large corporation—without the bureaucratic stuffiness; your career would grow at your pace with our help.
Work with professionals and experts—with heart; where your ideas are considered and your contributions are rewarded.
Play an integral role in doing something positive for your community; like keeping Canada's businesses running, helping families get the protection they need, and problem-solve on behalf of those who experience disasters in their lives.
Become part of one of the largest and most stable professional sectors in the world; in association with over 110,000 other Canadian insurance professionals.
Want to know more about working at Park?
Then, check out a speech by Chelsea Fitzpatrick, our Vice President of Operations.  Chelsea won the Rising Star award for 2017 and used the opportunity to discuss some of the employee focused initiatives that form the basis of Park's philosophy.
Why not consider a career with Park Insurance!
Park Insurance has experienced significant growth over the past 10 years and this trend continues. When you join our team, you will be rewarded with:
EXCELLENT COMPENSATION
You will enjoy a competitive salary that is benchmarked against—or better than the rest of the insurance sector. But there is more. Your salary is only one element of a well-rounded compensation package.
GENEROUS BENEFITS
Do you like these benefits? Then we'll include them in your benefits package.
Health and Wellness
Competitive and flexible medical, dental, and life insurance plans—of course!
Flexible work hours (we will do our best to accommodate your needs).
Financial Assistance
Education assistance.
Professional designation bonuses (pertaining to the insurance sector).
Professional designation/licence reimbursement.
Home and auto insurance discounts.
GREAT WORKING ENVIRONMENT
A great compensation package doesn't mean much if the working environment is sub-optimal. So, in addition to extensive education, personal growth and career enhancement opportunities, you will work in an environment where respect for diversity, recognition, teamwork, and employment equity is standard. You will have access to the latest in technology and be evaluated fairly based on objective performance standards and where best practices are the norm.
We believe that a positive working environment also encompasses quality offices, interior decoration and cleanliness, personal and property security. After all, we're not called Park Insurance for nothing! Send us your resume and we'll give you a tour!
TRAINING OPPORTUNITIES AND MANAGEMENT DEVELOPMENT
You will be given opportunities to increase your skills, your interpersonal communications, as well as develop your business acumen that will serve you well no matter where your career takes you. Training opportunities are divided into these three categories:
Core Competencies: knowledge, skills, interpersonal relationships
Professional Certification & Licensing: insurance certification and designations
Management & Business Administration: human resource skills and financial management