Connecting with Our Neighbours in Burnaby!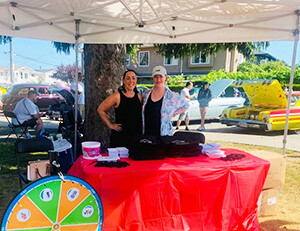 Sharing in the return of some in-person community events this summer was an absolute delight!
We were thrilled to be a part of the iconic Burnaby Heights event, Hats Off Day, on June 16, 2022.  After two years of virtual events, our team was ecstatic to visit with our neighbors and connect with members of the community in-person, again.
We were also back out in the Highgate community on July 23, 2022 at the Edmonds City Fair & Car Show.  We were excited to support this super fun event and interact with our Highgate neighbours. Thanks to everyone who came out to support these wonderful events!
Chelsea Fitzpatrick Elected to BBOT Board of Directors!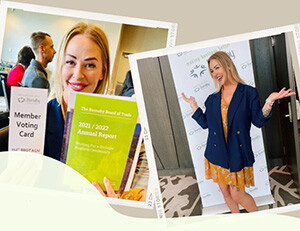 At their annual AGM in June, the Burnaby Board of Trade (BBOT) welcomed our very own COO, Chelsea Fitzpatrick as a member of their Board of Directors!
The BBOT is "committed to the triple bottom line of economic, social and environmental sustainability, and fulfilling their vital role as the catalyst, convener and champion of a thriving business community—and a community as a whole."
Chelsea shares this passion for giving back to her community and helping all community members to thrive. Congratulations on your exciting new appointment, Chelsea!
Park Insurance is named 2021 Business of the Year!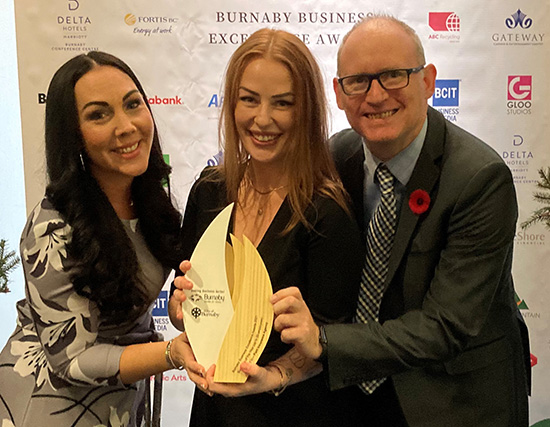 On Wednesday, November 3rd, the Burnaby Board of Trade hosted the 22nd Annual Burnaby Business Excellence Awards. We were thrilled and deeply honoured to win the 2021 Business of the Year (up to 50 employees) award!
This award is presented annually to a Burnaby business, with up to 50 employees, which has made an outstanding contribution in the areas of business success, innovation and community service. We are also very proud to announce that our CCO, Natasha Purnell, was a finalist for the Business Person of the Year.
Our warmest congratulations to all the winners and finalists at this year's event!  Thank you for your contributions to our community.  We enjoyed sharing a wonderful evening with you!
Mountain of Food Drive!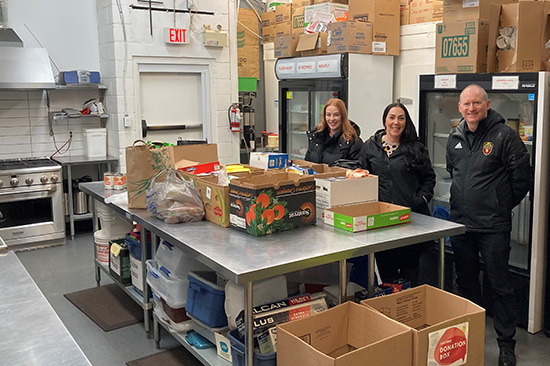 In support of our friends at NightShift Street Ministries, we hosted a Mountain of Food drive in October. Thanks to the generosity of our staff, clients and vendors, we collected 408 pieces of non-perishable food and 500 masks!
We are proud to support the dedicated team at NightShift Street Ministries who are on the front lines of outreach and care for vulnerable, addicted and homeless people in Surrey.
VALtality Run/Walk/Ride in support of SickKids Foundation!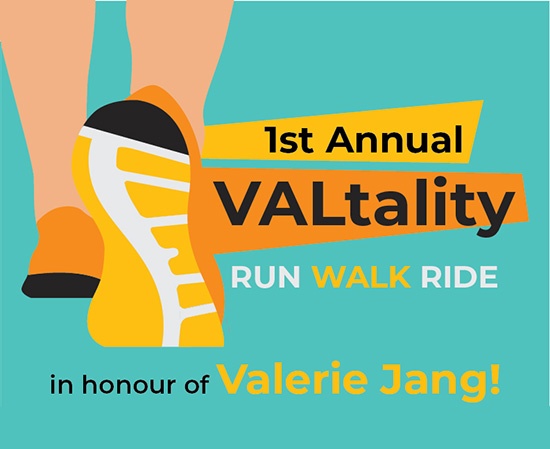 During her 32 years at Park Insurance, Valerie Jang's commitment to healthy living personally motivated many of us to improve our own health. Val was a dedicated runner for many years, she completed a half marathon and regularly participated in the Vancouver Sun Run. When Val retired in June, we knew she would continue her commitment to active-living and we intend to do the same!
So, we were very proud to create the annual VALtality 5km Run/Walk/Ride in honour of all that Val has contributed personally and professionally to our Park family!
On October 17th, we hosted our inaugural VALtality event and raised $2,205 for the SickKids Foundation! Thank you to all of those who donated, walked, and supported this initiative.
Burnaby Business Excellence Awards – Business Innovation Finalist!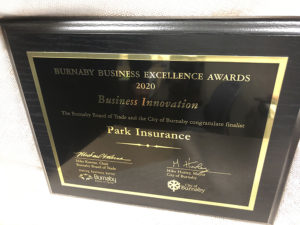 We were honoured to be recognized as a finalist in the Business Innovation category at the recent 2020 Burnaby Business Excellence Awards. This year, in light of the COVID-19 pandemic, each award category was changed to reflect the unique impacts and challenges facing the business community.
"While this year was one of great challenge for our community, we felt it more important than ever to recognize those businesses, entrepreneurs, non-profits and citizens who have persevered and excelled in 2020. Burnaby is home to an extraordinarily diverse, innovative, and resilient business community, and we're thrilled to be able to celebrate that with these awards." said Paul Holden, President & CEO of the Burnaby Board of Trade.
The awards were handed out during a livestream event on November 5th.  Our sincerest congratulations to all of the winners and our fellow finalists!
Congratulations Cathy Su – Excellence Award Recipient for the Young Achiever of the Year!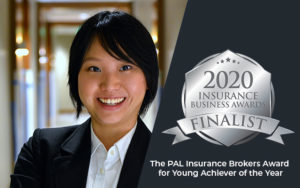 We are so proud to announce that our Assistant Vice President of Commercial Lines, Cathy Su, was one of the Excellence Award Recipients for the 2020 The PAL Insurance Brokers Award for Young Achiever of The Year at the annual Insurance Business Magazine Awards. Congratulations Cathy!
"This award of excellence recognizes the outstanding young insurance broker in the insurance industry who has shown the highest potential for greater leadership and has exceled at pushing the envelope with innovation and growth, garnering industry's attention and the respect of peers." (Insurance Business Magazine Canada)
Excellence Award Recipient: CNA Canada Award for Excellence in Philanthropy & Community Service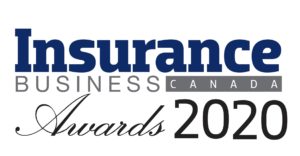 Park Insurance is honored to announce that we have been recognized as an Excellence Award Recipient by Insurance Business Magazine for the 2020 CNA Canada Award for Excellence in Philanthropy & Community Service.
Insurance organizations are nominated based on a variety of criteria, including: participation in major philanthropy and community service programs or initiatives over the last 12 months; impact on local, national or international causes or communities; and financial and/or human resource hours contributed towards philanthropy and community service initiatives.
We want to express our gratitude to everyone among the readership of over 20,000 industry professionals who put forth the nominations for all categories. We also want to thank all of our cherished clients who inspire us every day via their own dedication to supporting causes in their local communities.
Chelsea Fitzpatrick – Breaking the Mold!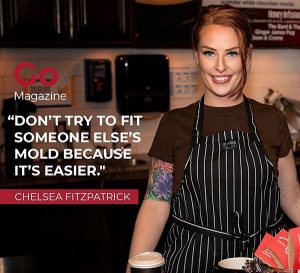 Our Vice President of Operations and COO, Chelsea Fitzpatrick, was recently featured in Gore Mutual's Go Magazine. In the article, Chelsea speaks of her connection to the local community and her commitment to support local businesses – including her favourite local coffee shop Caffé Divano, where she posed barista-style for the featured pic!
Chelsea also used the opportunity to highlight some of the charitable causes that are close to her heart, including the Month of Caring, during which Park employees give back to those in need in the local community via a number of charitable organizations. She notes that giving back brings out the best in their team.
She also spoke to Go Magazine about the importance of putting employees first, workplace culture and not being a passive participant in your career. Read the full article here.
Move for Scleroderma – Supporting Research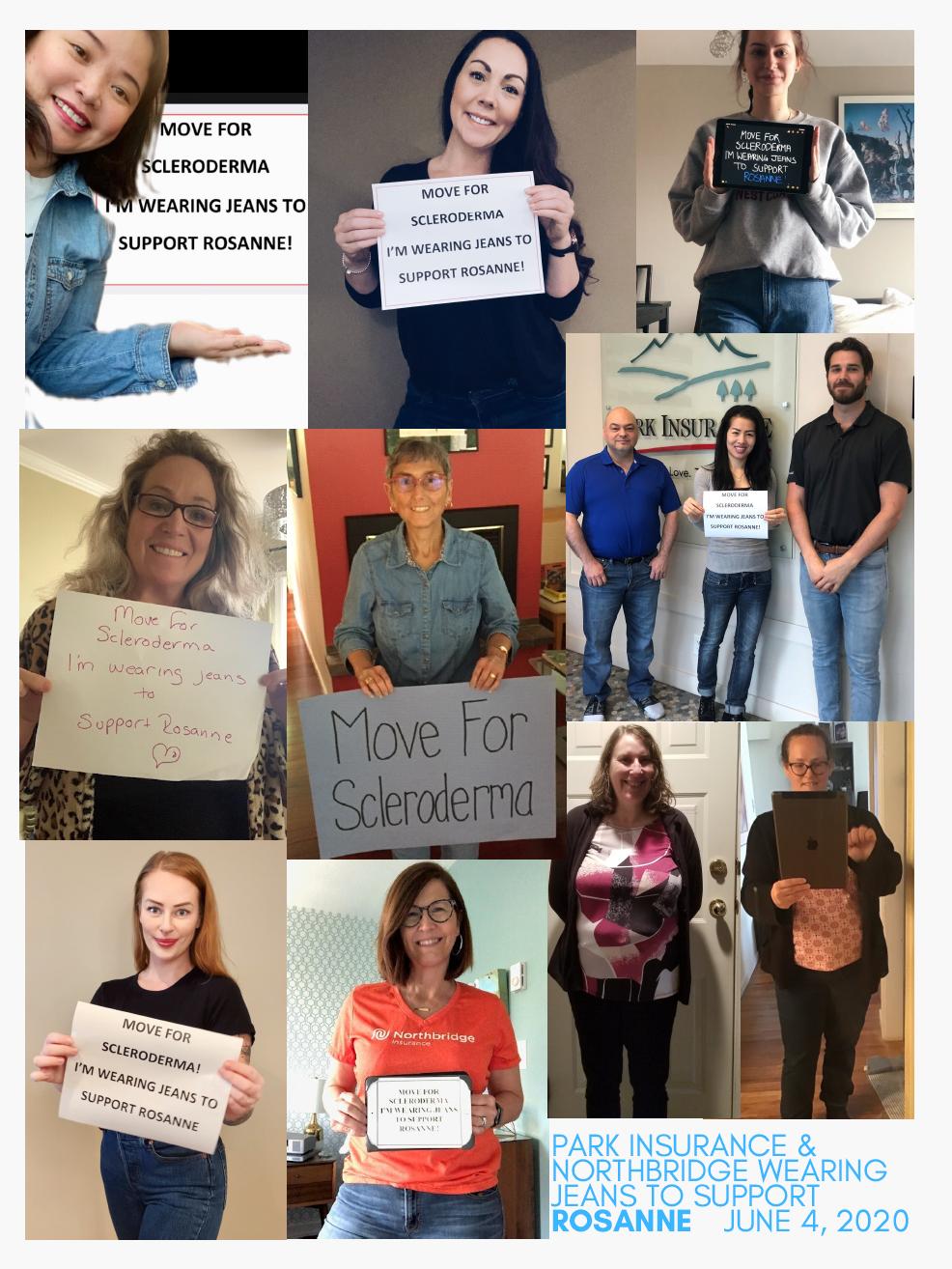 June is Scleroderma Awareness month around the world. So, on June 4th, at Park Insurance we wore our jeans in support of our long-time colleague, Rosanne, who has this rare disease.
Apart, but still together, we collectively raised $2000 which will be matched by Northbridge Insurance for a total of $4000! The funds will go towards Rosanne's goal to raise $20,000 with 100% going to research in BC and across Canada.
Rosanne is an advocate and regular fundraiser for this important cause. Funds raised support ground-breaking Scleroderma research. You can learn more about the research being conducted and how you can help at https://sclerodermabc.ca/sabc-research-project/.
WICC and Friends for Life Valentines Lunch

Cathy Su, our Commercial Lines Assistant Manager, joined our friends and partners from Can-Sure at the annual Women in Insurance Cancer Crusade (WICC) BC Valentine's Day lunch on Friday.
This year's Valentine's Lunch was in support of the WICC & Friends For Life Daffodil Dash team. To learn more about WICC and the work they do visit wicc.ca today.
Lunar New Year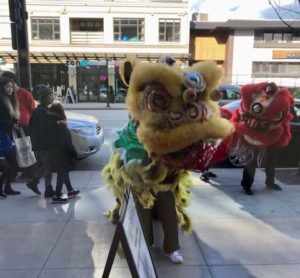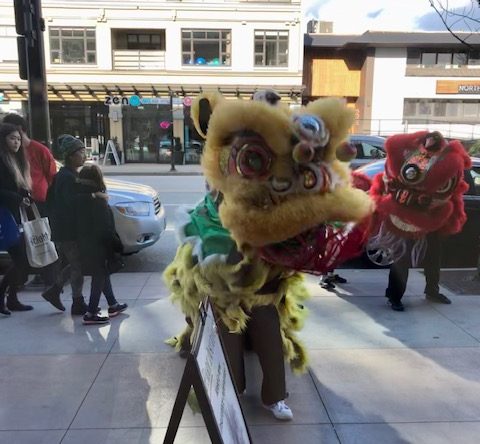 On February 1st, we celebrated the Lunar New Year with Burnaby Heights Merchants Association. The afternoon was filled with Lion Dancers, lettuce, and drumming for this special blessing ceremony.
We wish you all a lucky and prosperous Year of the Rat! We also want to thank Shao Lin Hung Gar Lion Dance Team for their amazing performance.
Supporting our Community During the Month of Caring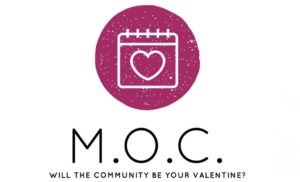 Organized by Chelsea Fitzpatrick, Vice President of Park Insurance, together with The Honorable Order of the Blue Goose (BC Chapter), the Month of Caring is exactly as it sounds and more. Yes, there is a full slate of community outreach programs in place throughout the month, but Park is also encouraging the entire insurance industry to show support for this worthy cause. Everything you need to know, including information about how you may get involved, can be found here.
Angel Project Toy Drive
We were able to help Burnaby Community Services this holiday season by hosting an Angel Project toy drive to collect new toys for local children of low-income families. The generosity of the community was heartwarming. Thank you to all who donated!
We also want to thank the Burnaby Firefighters for picking up the donated toys and delivering them to Burnaby Community Services.
Thank you again to our staff, everyone who donated, and to Burnaby Community Services for arranging these wonderful programs! 
Supporting Women in Insurance Cancer Crusade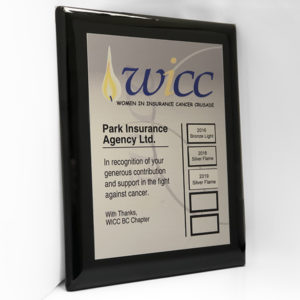 The British Columbia chapter of WICC (Women in Insurance Cancer Crusade) was founded in 2002 to provide support for those battling cancer and to provide financial support for cancer research. Since its founding, the WICC BC Chapter has donated more than $1.4 million to the BC & Yukon divisions of the Canadian Cancer Society.  They are currently working at raising $1,000,000 towards Camp Goodtimes and other support programs in BC by the year 2025.
At Park Insurance, we are proud to continue to provide support for this worthy cause with a Silver Flame sponsorship in 2019.

Healthy Workplace Award Winners!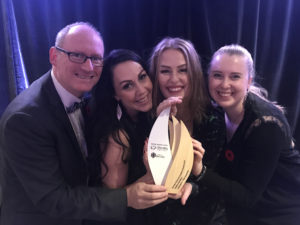 Thank you to the Burnaby Board of Trade and the City of Burnaby for this amazing honour! We were delighted to be selected as the winner of the Healthy Workplace Award at the Burnaby Business Excellence Awards Gala on November 7th. Contributing to the physical, mental and emotional health of our employees is very important to our leadership team.  Whether it's initiating a planking challenge or providing continuing education opportunities, our goal is to foster a positive environment where our team can thrive. We are thrilled to be recognized for these efforts. Thank you.
We also offer our sincerest congratulations to all of the winners and finalists at this year's event!  It was a wonderful night.

We're Finalists! Healthy Workplace 2019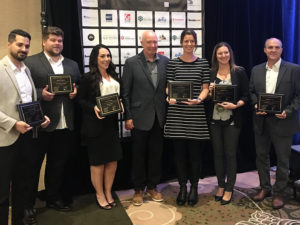 We were delighted to be selected as a finalist in the 2019 Burnaby Business Excellence Awards! Our Chief Culture Officer, Natasha Purnell was thrilled to accept the award for the Park team at the Hilton Metrotown on October 3rd. As finalists, in the Healthy Workplace category, we are honoured to be recognized for our efforts to create a workplace that fosters passion, innovation, teamwork and happiness. Go team!
Our sincerest thanks to the Burnaby Board of Trade and the City of Burnaby for this great honour. Congratulations to our fellow finalists! We look forward to seeing you all at the Burnaby Business Excellence Awards Gala on November 7th.

Celebrating Female Leaders in the Insurance Industry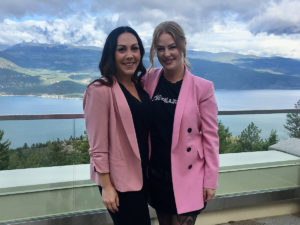 Our VP of Operations, Chelsea Fitzpatrick, and our Chief Culture Officer, Natasha Purnell, were proud to have been part of the first ever Women in Leadership Event hosted by Aviva Canada. The inaugural event, held on September 26th, 2019, was attended by 50 female leaders in the insurance industry.
Chelsea was invited to share her experiences as part of a panel discussion: "Success & Sacrifice – Intimate Panel Discussion with Female Leaders in the Industry."
It was an amazing day full of inspiring sessions designed to educate, empower and celebrate women in leadership positions within the insurance industry.

Proud to Support the Michael Cuccione Foundation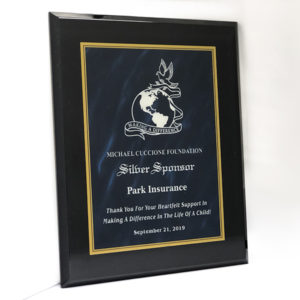 For over two decades, the Michael Cuccione Foundation has worked tirelessly to fund childhood cancer research.  The Foundation is proud to honour Michael's legacy and build on his amazing accomplishments.  Learn more about Michael' Story of courage, compassion and inspiration.
At Park Insurance, we are honoured to continue our support of this remarkable foundation in 2019.
We offer our heartfelt commendation to all who work so hard at finding a cure for childhood cancer.  Thank you for your dedication to "making a difference in the life of a child".

Shining on Edmonds!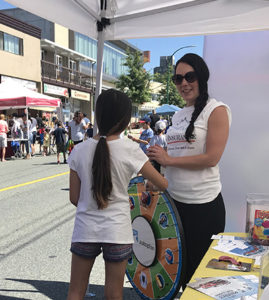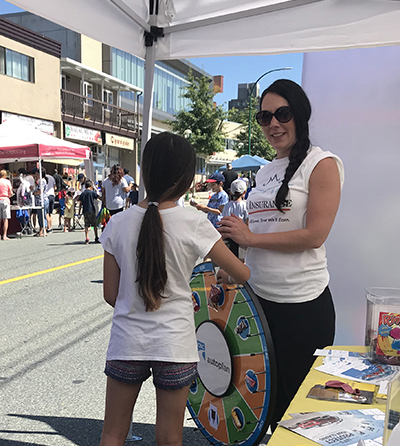 The Park team enjoyed another sunny day out in the community on July 21st, 2019. We joined the popular Edmonds City Fair & Classic Car Show. This annual street festival runs along Edmonds Street from Canada Way to Kingsway.
The fun-filled day included a car show, food vendors, live music and activities for the whole family. We were excited to join the fun with our booth featuring prizes and face-painting for the kids!
Our sincere thanks to everyone that visited our booth! It was great meeting so many from the local community.

Happy National Insurance Awareness Day!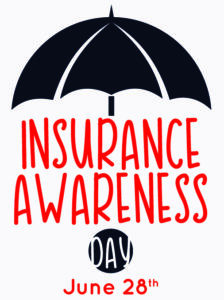 Did you know? June 28th, 2019 is Insurance Awareness Day! While it may not be the most well-known holiday of the year, it is a day we can reflect on and feel proud of the the work we do. We provide home owners, business owners and vehicle operators with peace of mind insuring some their most valuable assets.  Thank you to our amazing team for all the work that you do providing our community with peace of mind!
And, thank you to all of our loyal customers whose support makes our work possible everyday!
Learn more at: https://www.daysoftheyear.com/days/insurance-awareness-day/

Congratulations on Another Successful Ride, Rosanne!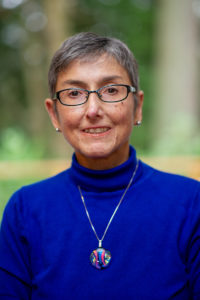 Long-time Park employee, Rosanne Queen, along with her husband David, continued her amazing fundraising efforts in support of Scleroderma research this year.  On Sunday, June 16th, 2019 they held their 8th Annual Scleroderma Ride for Research with outstanding results.  Here's what she had to say about this year's ride:
"Thanks to your support, the Ride for Research has raised over $50,000, with donations still coming in! We had over 90 people join us for our 30km ride and 10km walk or ride around the seawall.  On a beautiful sunny day, we all arrived back to a great potluck lunch.
We were joined by Dr. Dunne & Dr. Keen who are part of the research team. They talked about the ongoing research and shared that none of our money raised is going to salaries or expenses for the primary researchers; every dollar goes to the necessities of conducting the research.
As the group started to leave, individuals came by to say what a wonderful day it was and thanked me!  I find the recognition and gratitude very humbling because it is your support that raises awareness and makes research possible.  Our family, friends and Scleroderma community are essential to make it all happen.  I may be the instigator, but I can't do it alone!  A very heartfelt thank you!"
If you'd like to help, learn more at https://sclerodermabc.ca/.

Happy to Take Our "Hats Off" to Our Community!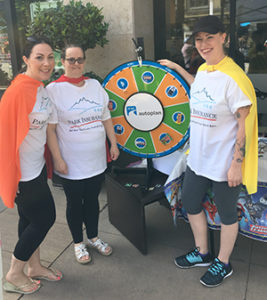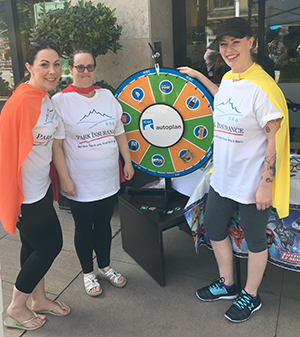 On June 1, 2019, the Park team enjoyed a sunny and fun-filled day celebrating our community during Hats Off Day on Hastings Street.  Hats Off Day is a huge street festival featuring a main-street style parade, followed by a big street party. Hastings Street from Boundary Road to Gamma Avenue is car-free, and the streets are packed with families, friends, neighbours, and merchants!
The Park team were proud to participate offering prizes and face-painting for the kids with donations going to support the Michael Cuccione Foundation.  Thank you to all our visitors for making it an amazing day!

Proud to Support Entrepreneurs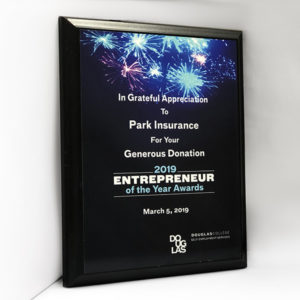 On March 5, 2019, Douglas College Self-Employment Services hosted their annual Entrepreneur of the Year Awards. This event celebrates the success of alumni from the Douglas College Self-Employment Program, recognized as one of the most successful entrepreneurial training programs in Canada.
We are proud to support an event that recognizes the hard-work and ingenuity of local entrepreneurs.
Congratulations to this year's winners and all the finalists for your amazing achievements!

We've Taken The Pledge
The Park Insurance team is proud to join other members of the Burnaby business community in reducing our environmental footprint. We've taken the Burnaby Board of Trade's Pledge for a Sustainable Community. Visit the BBOT's pledge site for some simple environmental tips and resources: http://bbotpledge.ca/

Congratulations Rosanne & David!
Everyone at Park Insurance takes this opportunity to congratulate Rosanne and David for their hard work and success in raising awareness about Scleroderma, and money for research into a cure. We are pleased to have Rosanne on our staff, as Manager for Group Insurance for the past 19 years. If you would like to learn more about Scleroderma and how you can support this worthy cause, please follow this link: http://www.sclerodermabc.ca/

The Michael Cuccione Foundation

Since 1997, the Michael Cuccione Foundation has been dedicated to raising funds for childhood cancer research and supporting children and their families. Over the years, Park Insurance has been proud to provide support to this amazing organization through their annual Fundraising Gala, Golf For A Cure and other initiatives.
Park Insurance congratulates and commends all who have worked so hard in support of childhood cancer research and wishes them continued success. If you would like to learn more about the Michael Cuccione Foundation and how you can support this worthy cause, please follow this link: http://www.childhoodcancerresearch.org/