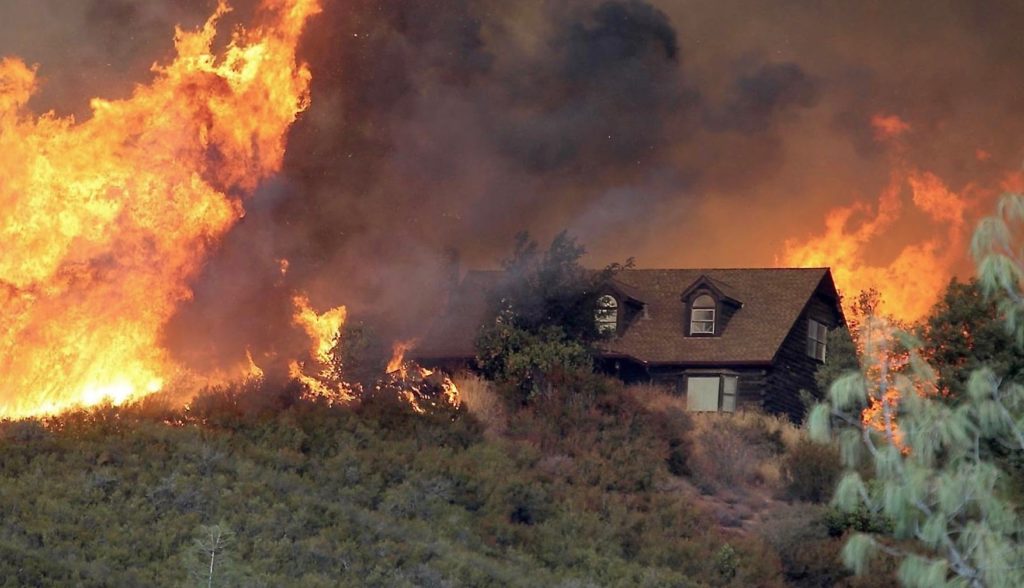 While the dry and hot weather has been a blessing for some, it does not come without consequence. At the moment (July 2017), an estimated 14,000 BC residents have been displaced from their homes due to forest fires. British Columbia is burning and homeowners in medium to high risk areas are on alert. The concern extends beyond the obvious threat to one's home and the rise in insurance costs. It has a very real psychological impact on the household too. Psychologists note that during times of evacuation alert, people often have more symptoms of anxiety. They experience poor sleep patterns and children often regress to behaviors more consistent with when they were younger.
If you reside in an area where forest fires are a concern, you may be feeling powerless right now. And while it may seem like little can be done to protect your property from a forest fire, there are measures that can be taken to better hedge your risk. Let's get to it.
5 Things Homeowners Can do to Minimize Forest Fire Threat to Their Household
1. Trim Foliage In and Surrounding the Yard
Time for some serious landscaping. Tree limbs, bushes, and plants that have dried should be trimmed if not removed completely. Cut away weeds and all other foliage that are not necessary to the landscape of your property. Even healthy foliage should be trimmed to a minimum of 10 feet away from both your home and telephone wires above the roof. Keep the lawn well maintained and watered to prevent drying.
2. Remove All Combustibles from Your Home's Exterior
If it can catch fire, remove it from your property exterior. Obvious items includes bags of dried compost, grass clippings, paper-recycling bins, lumber, and wooded patio furniture. For items that cannot be taken away or stored off-site, tuck them safely into a secure place (basement, etc.) until the forest fire threat has passed. Not only will this reduce the number of items that can catch fire and spread to your home, it allows better access to the property for fire crews who may need to build a line of defense against the approaching fire.
Consider sheds, garages, and carports as a part of your home exterior and remove all combustible chemicals and fuel reserves. Remove cleaning solutions and oil/gas cans, empty the tank in the lawnmower, and toss out (off property) rags used with cleaning solutions or to wipe up oil and gas spills. Have concrete carport driveways cleaned as well, to remove oil stains that could draw fire closer. Lastly, remove all non-essential vehicles from the property.
3. Inspect, Repair, and Upgrade Your Home's Exterior (within reason)
While retrofitting your roof and building envelope with fire-retardant materials may not be reasonable at the moment, there are some quick fixes and upgrades that can be applied.
For one, inspect your home's eaves, shingles, and ventilation systems for weaknesses. Any areas in need of repair may create openings that allow embers to enter the home and start a fire. Attend to these necessary repairs right away. Also keep your gutters and downspouts free of debris, which can also catch embers.
If you have old wood shingles and the resources have them swapped out for naturally non-combustible and fabricated fire-resistant materials. This process can be completed within one or two days depending upon the size of your roof. Another option is to have a pressure impregnated fire retardant treatment applied to your shingles. Consult with a home roofing repair specialist near you for more information.
Windows are another point of entry for forest fires. If viable, swap out drapes and low-quality blinds for non-combustible shutter systems that will provide an additional line of defense. While a fire that close will have already done significant damage, the shutters can potentially buy your home more time while fire crews attempt to keep it at bay. Those extra hours may be the difference maker.
4. Follow Household Fire Prevention Best Practices Too
Don't compound the threat on the outside by ignoring what's going on inside the home. That means instituting household fire prevention best practices. These include securing all electrical outlets, keeping the cooking area clean, removing combustibles from higher risk areas, not lighting candles, and unplugging electronic devices when not in use. View more on these best practices here.
5. Ensure You Have Adequate Insurance Coverage
Most BC household insurance policies cover fire damage. If you have to leave your home because of a mandatory evacuation order, those policies should also provide coverage for reasonable additional living expenses for a specified period of time. Regardless, you should contact your insurance provider and inform them of the potential threat and be sure to stay up to date on what your coverage entails along with any possible gaps. But there is another concern here.
There is an imbalance in the rebuilding cost coverage that can come after a forest fire has impacted (or destroyed) a home. Take past experiences to heart. The Kelowna BC forest fires of 2003 proved that almost every home was underinsured, with most by about 50% of their actual replacement values. There is only one way to make sure you're as protected as you can be here, consult with an independent insurance broker who is versed in household insurance coverage in British Columbia. Only with this unbiased assessment can you gain peace of mind in knowing that you have done all that you can against this all-too-common summer season threat. Contact Park Insurance, right away.
Note: Keep up to date on evacuation alerts near your BC home by referring to the Emergency Info BC website.