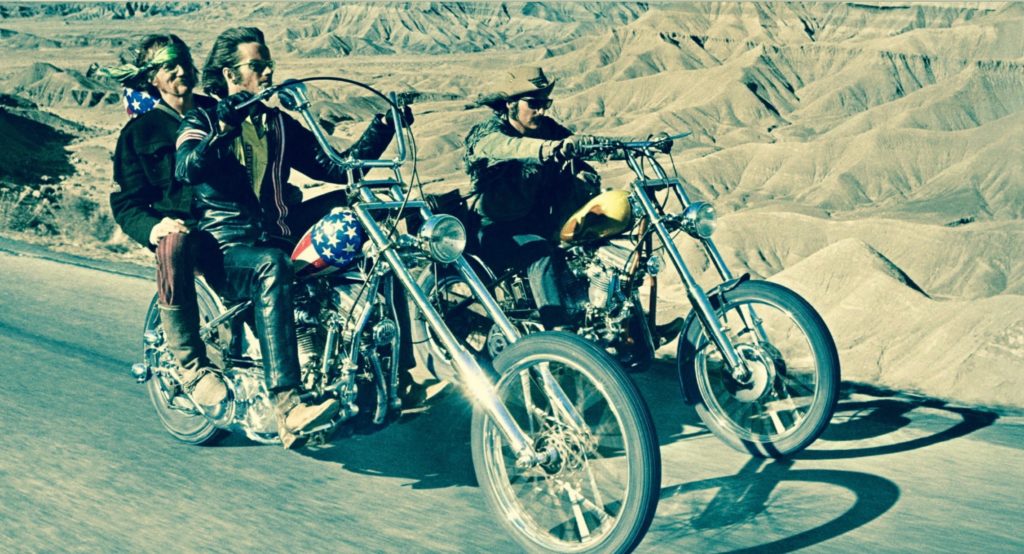 image: Columbia Pictures
ICBC issued a statement today, urging drivers to be on the lookout for motorcyclists on the roads and highways of British Columbia. Given that we are at the midpoint of the summer, and the forecast is sunny as far as the local weatherperson can see, it is anticipated that a wave of riders will be out there, more exposed to the dangers of driving than other motor vehicle operators. And while ICBC's plea will hopefully make a difference, you as a motorcycle owner must do all you can to protect yourself today and through the dog days of the season. The following tips from Park Insurance will help ensure that you've got an easy ride ahead.
5 Safety Tips and Best-Practices for Motorcycle Owners on the Road this Summer
1. Wear The Right Helmet
You can't just buy a helmet off the shelf (or order one online) and expect it to properly protect your dome unless you've had your measurements done. Helmet sizing will make or break your safety, preventing a concussion or much worse. Measure your head circumference, and follow the universally accepted (adult) sizing chart below:
| Head Circumference Metric | Head Circumference Inches |  Helmet Sizes |
| --- | --- | --- |
|  43.5 – 45.7 cm |  17 1/8″ – 18″ |  3XS |
|  46 – 48.3 cm |  18 1/8″ – 19″ |  2XS |
|  48.6 – 50.8 cm | 19 1/8″ – 20″ |  XS |
|  51.1 – 53.3 cm |  20 1/8″ – 21″ |  S |
|  53.7 – 55.9 cm |  21 1/8″ – 22″ |  M |
|  56.2 – 58.4 cm |  22 1/8″ – 23″ |  L |
|  58.7 – 61 cm |  23 1/8″ – 24″ |  XL |
|  61.3 – 63.5 cm |  24 1/8″ – 25″ |  2XL |
|  63.8 – 66 cm |  25 1/8″ – 26″ |  3XL |
|  66.4 – 68.6 cm |  26 1/8″ – 27″ |  4XL |
In addition to finding the right size, the province of British Columbia requires that motorcycle riders wear a helmet that meets one of the following standards:
DOT: conformance with the Federal Motor Vehicle Safety Standard No. 218; Motorcycle helmets (United States of America), also known as FMVSS 218 (49CFR571.218)
Snell M2005, M2010 or M2015: certification in accordance with the Snell Memorial Foundation 2005, 2010 or 2015 Standard for Protective Headgear for Use with Motorcycles and Other Motorized Vehicles
ECE: approved in accordance with the United Nations Economic Commission for Europe (ECE) Regulation No. 22
Also, avoid buying used helmets as while all may look well on the surface, there may be underlying issues from a prior accident that a visual inspection may not uncover.
2. Wear The Right Gear
So, you've got the helmet covered. But you also need to make sure you're outfitted from head to toe in appropriate gear. This is where many riders fall off in the summer. The weather is hot and layers of protective gear may not be comfortable. However, it's simply not worth the risk to forgo the essentials.
For starters, you should wear a face shield or eye wear to prevent everything from small rocks and debris to insects from blowing into your eyes and suddenly obstructing your view. Throw on your leather (jacket and pants) and riding boots with strong grip soles and don't forget to slip on your gloves. To avoid heat exhaustion be sure to dress light underneath so that you can slip out of your gear at pit stops and take a breather.
3. Adopt a Pre-Ride Safety Check Routine
Before hitting the open road for an extended trip, run through a checklist of the following to ensure your bike is in proper working order:
Check tires for air-pressure (under or overinflated), cracks, punctures, and excessive wear and tear
Inspect the parking area for signs of oil or gas leaks
Test all lights (headlights, taillights, and signal lights)
Check fluid levels (hydraulic and coolant)
Check oil and gas levels
Wipe down mirrors, exhaust pipes, windscreens/shields, and the gas tank
Secure storage compartments and harnesses
Test your clutch and throttle
Check mirror position
Test the brakes
Test the horn
If anything seems off, even if you can't quite put your finger on it, take your bike into the shop before going on that long summertime excursion.
4. Play by the Rules at All Times
Some riders enjoy a motorcycle because it affords them the freedom to beat traffic jams. They choose to zip between vehicles and on the sides of the lanes while others toil away in rush hour or road construction traffic. You must avoid the temptation to do so, and instead play by the rules at all times to avoid an accident. Traffic may suddenly pick up again, a passenger may open their door to check out the cause for delay, or roadwork materials and equipment may be placed outside of your line of vision. Patience is a virtue when it comes to keeping safe on the road this summer so abide by local/highway traffic laws and speed limits.
In addition to traditional on-road best practices, there are other driving hazards that rear their head in the summer that you need to be aware of. These include watching out for cyclists, riding with all-season motorcycle tires, and taking the necessary steps to avoid heat stroke. Read more on how to protect yourself from these concerns.
5. Take Note of Traditionally Hazardous Motorcycle Zones
Every province has a map that details the frequency of motorcycle accidents by zone. Whether you live in a particular region, or are passing through on your summer road trip, perform an online search to identify these zones in each respective province. For example, here in B.C. the ICBC motorcycle crash map details areas of concern that include Burrard Street Bridge and Second Narrows Bridge in Greater Vancouver among many other "hot spots".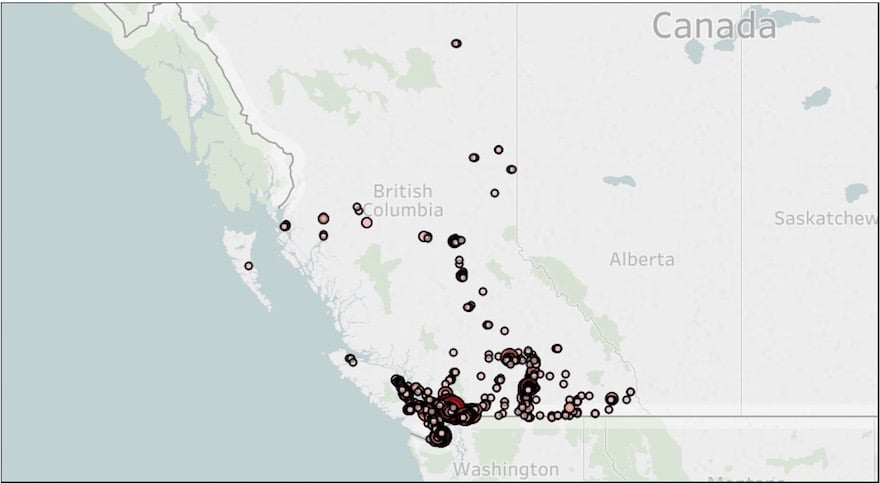 By knowing the risk associated to each zone, you can ride with extra caution to make sure you do not add to the dots on the map and accompanying statistics.
Park Insurance Wishes You Safe Travels on the Road this Summer!