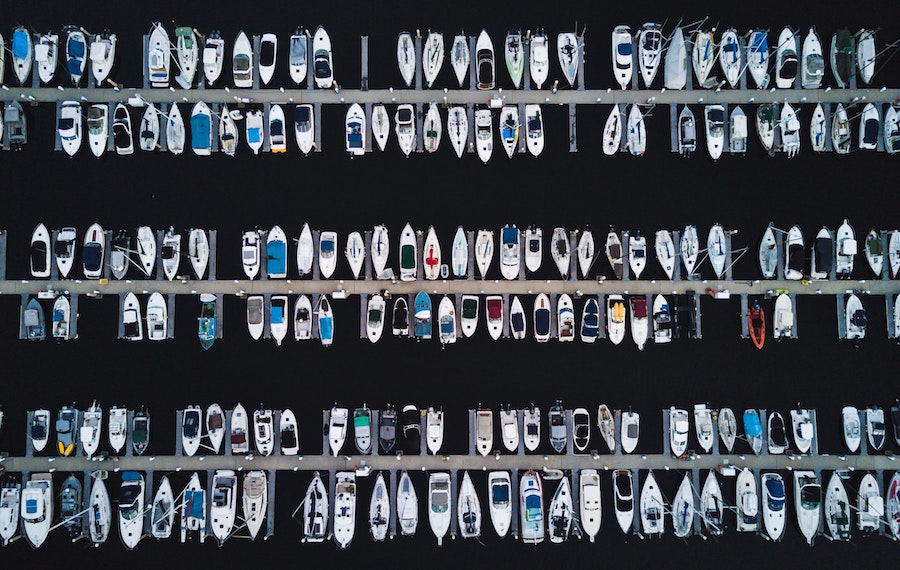 Summertime weather is upon us in BC, making this the perfect time to revisit tips to protecting your boat from damage and liability claims. Granted, we have provided a guide to keeping your watercraft and passengers protected on the water, along with some sound insurance advice for those heading out to Howe Sound or other waterways around the province. But today, we're going to focus on your local marina. While you may associate the greatest threats to your vessel with the open water, significant damages, theft, and subsequent claims begin at the harbor. Let's find out what you can do to better protect your floating investment.
5 Tips to Protecting Your Watercraft When Docked at Your Local Marina or Harbor
1. Investigate Marina Safety and Security
Before committing to long or even short term moorage, do your homework regarding a given marina. Just because it's located along one of BC's beautiful waterfronts doesn't exclude it from theft and vandalism. In fact, the more popular the community, the more public traffic, the greater the potential for human interference. Vet a marina, and make sure that where your boat will be docked is protected with security gates that utilize a key fob system as well as monitored video security. Ask marina management for crime statistics for good measure, and use your own eyes to gauge the general vicinity, taking note of  any indicators that your boat may become susceptible to "squatting" when you're not around to use it for long periods of time.
2. Don't Leave Valuables Out on the Deck
Walk around any popular marina and you'll see a wide collection of valuable furnishings, electronics (navigational and entertainment), recreational toys, and accessories out on boat decks and on display for all to see. Don't let a false sense of comfort have you leaving valuables out in the open, as doing so is like leaving the door open to your home while you're out for the day. Sure, a marina may boast the essential security features  (as per item #1 above) but at night anyone with a dingy or kayak can sneak through to your boat, hop on, and rummage through your goods. Plus, just because your harbor neighbors are fellow enthusiasts doesn't mean that they are free from malicious intent. Tuck what you can into the cabin and lock the entry (where possible) and invest in a lock box for the other smaller accessories that you prefer to leave on the boat through the season.
3. anchors aweigh on PEST INFESTATION
Just like with a cabin in the woods there are a wide variety of animals, creatures, and critters that will damage your marina property. They are hungry and in search of a place to nest, and your boat may offer an answer to both. BC marinas don't just host boating aficionados, but rats, mice, beavers, otters, aquatic insects, and numerous species of sea birds, all of which can cause significant harm to your craft and accessories, from electronics to epoxy.
Never leave food and beverages out in the open when you're gone from your boat for the day. Seal everything up and place it in a protected cupboard, cooler, or refrigerator (as applicable). In addition, clean your boat weekly, scrubbing away pest-attracting grime inside and outside of the boat, and don't leave wet clothing, towels, and wetsuits strewn about the deck. Also invest in an owl decoy, which will help keep sea birds from approaching while adding some aesthetic charm.
In addition, have a look at the dock near your boat, and if there seems to be a pest problem (ants, weevils, termites, etc.) report it to marina management right away. One especially concerning predator to watch out for are ironically named dry wood termites, which are know to colonize harbor craft. Inspect your boat for strange marks, small holes, and for what appear to be wood shavings, which may instead be "frass", otherwise known as termite fecal matter. Boat termites do not discriminate between wood boats and fiberglass boats with subtle wood trim so be mindful if you have either. If there appears to be a problem on board, find a pest control service near you that offers eco-friendly sprays for removing termites and other insects from your boat.
4. Protective Dock Accessories
Even if you use your boat often through the season, it will sitting alone for numerous hours each day and will thus be susceptible to the bumps and bruises that come from wind, wake, and the actions of other boaters who come in and out of the marina on their own craft. Make sure you invest in a quality dock bumpers, and secure them to the entire perimeter of the boat. In addition, tie your boat up with a nylon dockline which is far superior to traditional rope. Both three-strand and braided nylon docklines offer optimal "stretch" and are abrasion resistant. The latter (braided) are more expensive, but the more expensive your boat the more you want to invest in its safety. You may also consider purchasing dock bumper pads, which affix to the dock (vs boat) for an added layer of protection, but first check with marina management as they will have rules about making functional and aesthetic changes to docks in the same manner as a condo has strata law regarding patio spaces.
5. Wrap it Up for the OffSeason
Offseason doesn't necessarily mean the winter, as you may be away from your docked boat for weeks on end. Moving the vessel for off-marina storage may not be viable during this time, but leaving it exposed to the elements can be detrimental to its health, which is why some owners are turning to custom boat covers, or even – a recyclable, heat-sealed, flame-retardant, polyethylene premium grade shrink wrap that can be applied to your entire watercraft, protecting the surface along with accessories and mechanical/recreational components within. Perform an online search for the latter service, finding one that can come directly to your dock/marina. When it's time to hit the water again, the wrap can be easily sliced off for recycling and you should be able to hop into a boat that looks and functions as good as it was when you left it.
---
Of course, none of the above is foolproof. Anything can happen, whether at sea or docked in a supposedly safe harbor. That's why you need to receive a comprehensive and independent broker review of your current boat and marine insurance policy. Contact Park Insurance today to learn more.