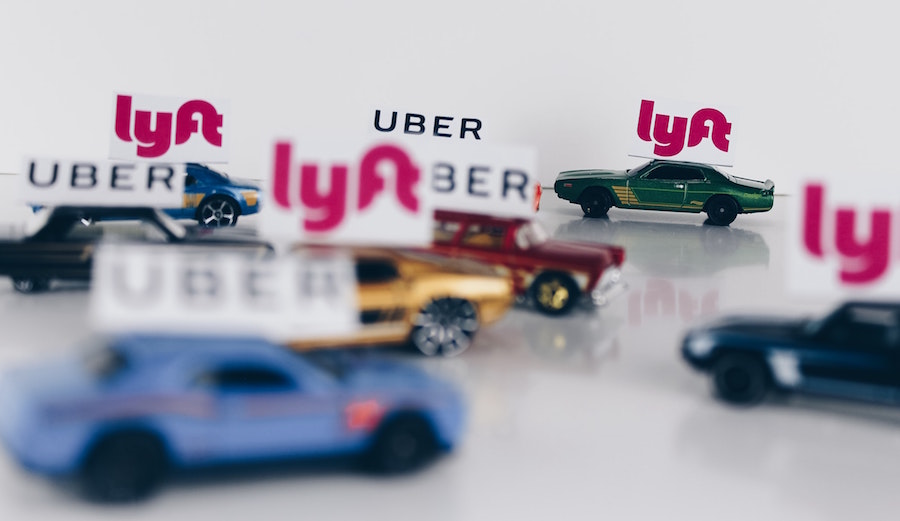 It's about to get crowded out there, are you covered?
Update January 24, 2020: RIDE-HAILING VEHICLES ARE NOW ON THE ROAD IN BC!  After a long journey, Uber and Lyft have finally arrived in Vancouver!  At Park Insurance, we have been following this developing story and our team is ready to assist you with all of your ride-hailing insurance needs.  Read on to learn about the insurance requirements for ride-hailing drivers in BC and then call us today at 1.800.663.3739. We are here to help!
November 10, 2019: In the summer of 2019, BC finally passed legislation to allow ride-hailing services, including Uber and Lyft, to operate in key regions in the province. They put in place some pretty heavy restrictions (i.e. licensing requirements, etc.) when compared to other North American cities which has caused significant delays in getting the app up and running for residents. But, BC Premier John Horgan promises that ride-hailing will be available in December. Whether that happens or is pushed into 2020, ICBC has moved ahead as intended with insurance requirements for ride-hailing drivers. Here they are.
What Kind of Insurance Uber and Lyft Drivers in BC Need to Get and What Else You Need to Know Before Hitting the Road
Basic Insurance Is Provided to the Ride-Hailing Company
ICBC will be selling a blanket insurance certificate to ride-hailing companies Uber and Lyft along with any other similar (and approved) service provider. The mandatory policy will provide the companies with Basic insurance to provide coverage for Accident Benefits and up to $1,000,000 third party liability. As an Uber/Lyft driver, you and your passengers will be covered from the moment you accept a trip through the app through until passenger drop-off. For example, if you are on Willingdon Avenue in Burnaby and tap to accept a trip from Metrotown to downtown Vancouver, your coverage begins at that point (on Willingdon) and continues as you pick up the party, drive them downtown, and drop them off until the moment you've indicated (via the app) that the trip has been completed.
Optional Coverage Now Available for Ride-Hailing Companies and Drivers
As of September 16 2019, ICBC has also made Optional coverage available to protect drivers specifically when offering ride-hailing services. Optional coverage available includes both Collision and Comprehensive insurance and is available to both ride-hailing companies and drivers. It is very important that you check with your ride-hailing company to determine if they have purchased this blanket Optional coverage.
If the ride-hailing company does not have any blanket Optional coverage or their blanket Optional coverage is lower than your personal coverage, you may want to add your own personal Optional coverage to ensure that you adequate protection while operating as a ride-hailing driver.
From the moment you accept a trip you want to ensure that you have sufficient coverage to mitigate the significant risk that comes from driving one or more passengers. When you factor in the new UberPool option, things get even riskier. With UberPool, you are picking up multiple passengers for one trip, which equates more stops and driving time, and therefore greater potential for a motor vehicle accidents and subsequent claims. 
Simply put, you want the best coverage possible. ICBC has provided a visual breakdown of all scenarios here: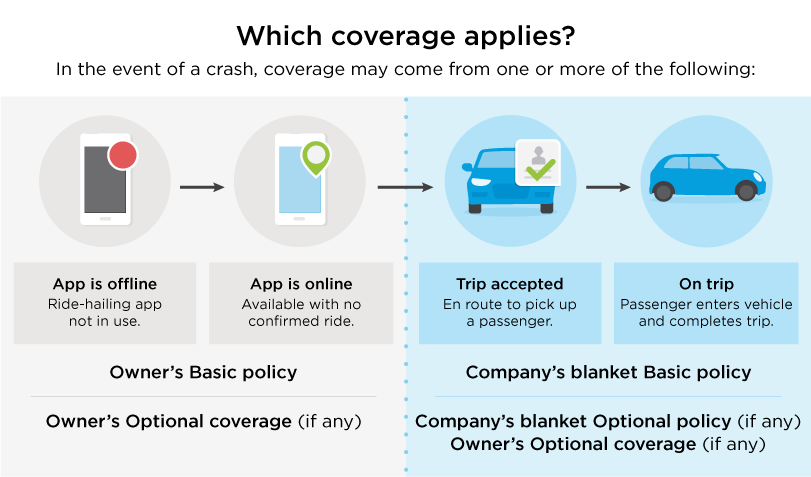 Schedule a Consultation With Your Autoplan Broker Right Away
Who said being an Uber/Lyft driver in BC wouldn't be complicated? It is, and insurance considerations are even more so, but all of the stress can be alleviated after a visit with a trusted Autoplan broker. To better prepare you for your visit at a Park Insurance office near you, here's what you need to bring:
List of the which ride-hailing service(s) you will drive for.
What insurance the ride-hailing service(s) holds (confirm with Uber/Lyft ahead of time).
Information about how many days per month you plan to use your vehicle for ride-hailing services. There are distinct differences in coverage for those driving up to 6-days, or over 6-days, per month.
Your driver's license.
There are sure to be updates regarding ICBC ride-hailing insurance so be sure to stay tuned to our blog. But first, contact Park Insurance at 1.800.663.3739 to discuss your current automobile insurance in light of recent ICBC changes and your changing needs.