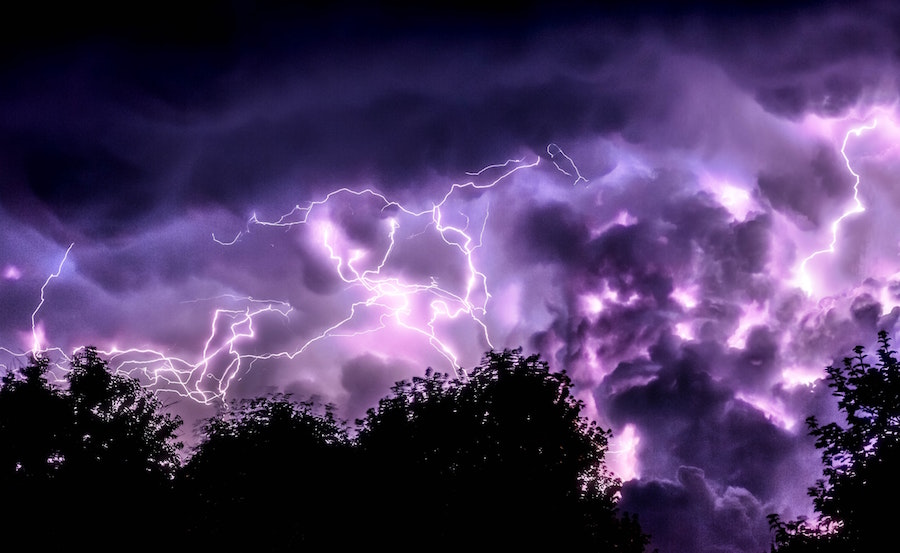 History repeats itself. It's a truism that often comes with unfortunate results, especially where weather patterns are concerned. 2019 was one of the most tumultuous years on record for Canada, and British Columbia experienced its fair share of "natural" phenomena to signal that climate change is the real deal and here to stay. For this reason we have to look at the major meteorological events of the past annum to help homeowners forecast and prepare for the fallout.
Top 5 Weather Events of the Past Year and What BC Homeowners Need to do to Make Sure They're Prepared for What's to Come
1. Wildfire and lightning
There's no hiding from the threat of wildfire. At press it's taking its toll on a global scale with regions in Australia burning at a record rate. British Columbia firefighters and residents alike are heading down under to assist in the effort to contain the burn, returning the favor as Australian crews have done in the past to help combat blazes in the BC Interior.
What about wildfires in our province in 2019? On the surface it seemed as if it was a relatively quiet fire season after devastating years prior, but when you dig deeper you'll find an underlying concern. A record number of lightning strikes occurred in the summer across the province, tallying 422,000 lightning events versus the average of 266,000. The only reason that forest fires did not ensue is the fact that rains accompanied the lightning strikes, whereas in 2017 and 2018 the lack of summer precipitation turned BC lands into kindle. Don't let the somewhat calm fire season of 2019 lull you into a false sense of security. The growing threat of lightning, unpredictable precipitation patterns, and ever-present peril created by careless or malicious acts creates a perfect storm of risk for BC homeowners living near forests. View Park's 5-step guide to minimizing forest fire threats to your home.
2. Late Snow and Flooding
Snow came late to Southern BC in 2019, arriving in Vancouver and Vancouver Island in February. A winter wonderland at such a time of the year in the region is a dangerous thing because spring temperatures lurk around the corner. They did just that, creating significant snowmelt and subsequent flooding. Homes near BC floodplains remained on high alert all late winter and early spring, but even houses in urban areas dealt with melting snowpack on their roofs and around foundations. This is a trending weather pattern to watch in 2020 as the late snow and melt of 2019 was preceded by BC's worst snowmelt flood on record the year before. Moving forward please follow Park's 5-steps to keeping your home safe from snowmelt water damage.
3. Record Rainfall
Snowmelt presents enough homeowner risk, but when you factor in record setting rains the threat of water damage grows exponentially. This weather event occurred in January of 2019, when a number of precipitation records were broken across British Columbia from Abbotsford to Williams Lake. This not only bombarded residential roofing and soaked surrounding foundations, it caused water levels to rise, putting nearby properties in harm's way even further. We urge you to read Park's guide to flood-proofing your home right away as the threatening flood season fast approaches.
4. HISTORICAL HEAT WAVE
In March, a heatwave hit BC, breaking nearly 3-dozen records around the province on the 19th. The next day that total hit a firm four-dozen, significantly compounding the snowmelt concerns addressed above. In May, the trend reared its head again, with fifteen heat records falling through the month, most notably in Pitt Meadows where a 28°C reading toppled a 141-year-old record. For good measure, 20 more high-temperature records would follow in early June which claimed a 145-year-old record in Victoria BC. While the spring season heatwave may have kicked air-conditioning units into unexpected overdrive it had the greatest effect in inciting the province to ponder what may come next.
5. Record Dry Spell
BC weather was just plain wacky in 2019 as the historical rainfall (early in the year) was succeeded by equally chronicled droughts. It all started after the spring season heatwaves. While they may have helped abate the flooding stress on the province, it quickly become a problem as rivers and lakes dried up fast under the hot sun and strained water resources. Homeowners would be called upon to restrict usage and in doing so witnessed their backyard gardens and landscaping die. But the biggest dry spell event occurred in Greater Vancouver in autumn, typically the wettest season. Metro Vancouver went two-weeks without a drop and overtook the longest previous dry stretch for November that was set 63 years ago.
---
If the topsy turvy weather of 2019 taught us anything, is that we should predict the unpredictable for 2020. Given that uncertainty is the mother of insurance there has never been a more pressing time to update your homeowners policy. Schedule a consultation with an independent broker by contacting Park Insurance today.