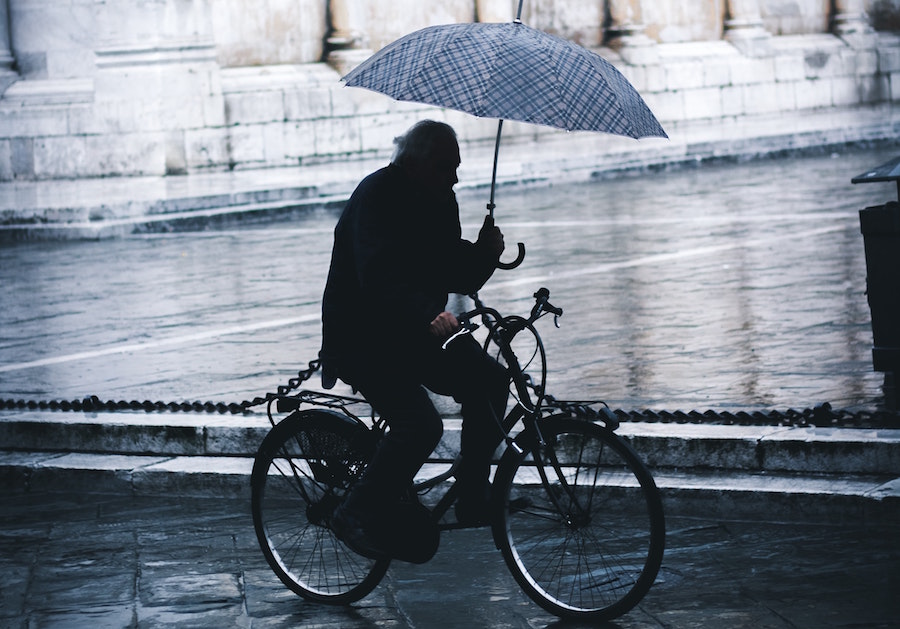 Not holding an umbrella while riding is a great start…
Rainy season is upon us in BC, especially here in the Lower Mainland. Navigating the roads in a vehicle is challenging enough through a downpour, but what about those of you who depend on two-wheels and pedals as a primary mode of transportation? Statistics Canada reports that environmental conditions that affect visibility (such as rain) account for over 20% of severe cycling accidents so you certainly need to be more mindful moving forward. Beyond traditional best practices (wearing a helmet, etc.) here are the top tips to making sure your sustainable transport is also a safe one.
5 Top Safety Tips for Riding Your Bike in the Rain
1. Avoid Riding in the Dark
Statistics Canada also reports that most cycling fatalities occur during evening rush hour when visibility is reduced and the roads are busy. When you compound this with rain, the risk level increases exponentially.
Try to leave work as early as possible during the autumn and winter months when daylight hours are limited.  And, avoid riding in the rain at dawn, dusk, and at night on rainy weekends too.
2. Turn the Lights On
Most bicycle lighting systems are manual and don't automatically turn on (as with automobiles) when visibility is reduced. You likely turn them on when riding at night but neglect to do so during the day even when it rains. Get into the habit of turning them on on cloudy days. While reflectors may help, they are not enough, so please do buy and install an LED (they last longer) lighting system that includes both a headlight and taillight so that drivers and other riders see you from both points of approach.
3. Wear Bright Riding Clothes
Those fashionable yet subdued rainy season colors (beige, brown, and other organic tones) may look great on the runway but on a rainy road they put you at risk. Drivers and other riders will have a hard time seeing you during the downpour. Make sure that you're wearing a bright colored (yellow, orange, or red) rain jacket or poncho when taking your wheels out for a spin.
4. Change Your Tires
Drivers often change their tires in preparation for the rainy autumn and winter seasons in BC, and cyclists should do the same. You will want to switch to a grippier set of tires that can navigate without slipping or skidding on wet roads and leaves.
What exactly do you look for when replacing your tires for the season? The following:
Compound – This references a healthy balance between grip and durability.

Tread – You need tires that have a round cross-section, which is an ideal design for preventing hydroplaning as it more easily displaces rainwater.

Puncture Protection – There is more debris on the road as rainwater buildup on the road picks up and carries it towards drains and downward slopes. Puncture-causing  debris may go unnoticed in the rain, especially when covered by leaves.
Avoid going to a big-box retailer to ask about the above as staff may not be versed in such things. Instead, visit a dedicated bike shop in your area. Explain to staff (experts in cycling systems) that you are looking for puncture-proof tires that will keep you from hydroplaning in the rain. They will inspect your current set-up to see if you do indeed require new tires, and if you do, they will point you to the appropriate options.
Extra tip: While you're getting your tires checked out, ask for a full inspection. This will provide more confidence that you're ready to tackle those rainy roads.
5. Slow Down to Signal
When riding during dangerous conditions (rain) you must keep both hands on the handlebar grips at all times. However, you also need to use hand signals when making a turn. However, when you are signaling in the rain you increase the odds of losing control when your wheels skid, slip, or hydroplane. For this reason it is imperative that you slow down (more than you normally would) prior to using a hand signal to make a turn.
---
Other Articles You May be Interested in:
Pedaling Around Misconceptions – Cyclists and Insurance Liability
Safe Tips for Driving Around Cyclists
Are You Liable for Non-Motorized Accidents?