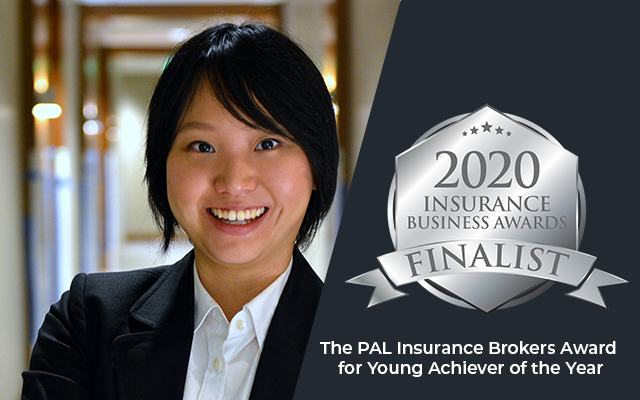 We are so proud to announce that our Assistant Vice President of Commercial Lines, Cathy Su, has been nominated by Insurance Business Magazine for the 2020 The Pal Insurance Brokers Award for Young Achiever of The Year. Congratulations Cathy!
"This award of excellence recognizes the outstanding young insurance broker in the insurance industry who has shown the highest potential for greater leadership and has exceled at pushing the envelope with innovation and growth, garnering industry's attention and the respect of peers." (Insurance Business Magazine Canada)
Cathy truly epitomizes the spirit of this award.  Her dedication to continued education and her amazing work ethic has propelled her quickly through increasingly complex roles.
Cathy began her insurance career in 2007 as an ICBC broker. She quickly moved into Personal Lines, and approximately three years into her career she accepted an opportunity to move to the Commercial Department. Cathy loves working in Commercial Insurance, and it shows! She continues to make advancement, most recently being promoted to Assistant Vice President of Commercial Lines.
She has also continued her education, earning her CAIB (Canadian Accredited Insurance Broker) and CIP (Chartered Insurance Professional) designations. Cathy couples her in-depth knowledge with genuine concern for clients. This has earned her the trust and respect of her clients and peers. One of her clients recently made the following comments about Cathy's outstanding abilities:
"(She) provides immediate responses which are detailed, meaningful, and creative, and display her in-depth understanding of product features and how they relate to real life situations. (She) displays a strong work ethic, and supports us in an energetic, positive, and professional manner."
We want to express our gratitude to all the industry professionals who put forth their nominations. We also want to thank Cathy for the outstanding work that has earned her this distinction! We are privileged and honoured to have you as part of the Park Team!
Stay tuned everyone for the virtual awards ceremony on November 19th. We'll keep you updated as the finalists are announced, but be sure to monitor the #IBAwardsCA hashtag to follow along on Instagram, Facebook, and Twitter.