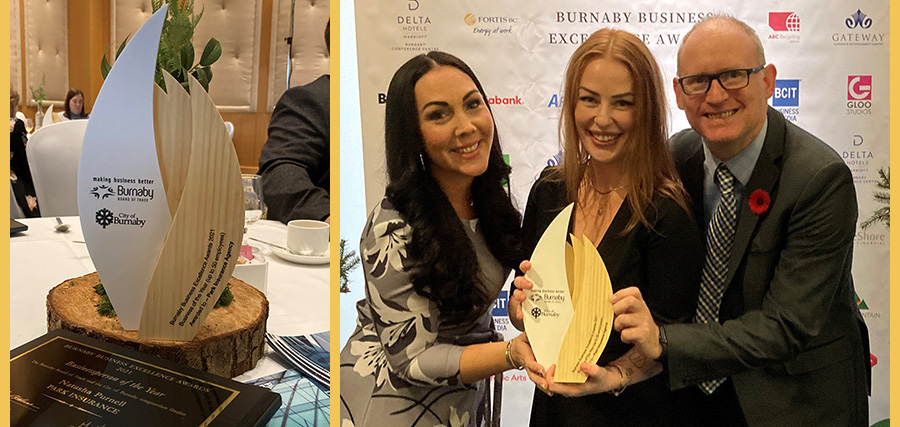 What a start to November! Last week, Park Insurance was honored by the Burnaby Board of Trade with the distinction of 2021 Business of the Year (up to 50 employees) at the 22nd Annual Burnaby Business Excellence Awards. But that's not all, as our very own CCO Natasha Purnell was recognized as well, being named as a finalist for 2021 Businessperson of the Year.
Our Sincerest Thanks for Being Named 2021 Business of the Year (up to 50 employees)!
We are absolutely thrilled and humbled to be recognized by the Burnaby Board of Trade, namely because of what the awards stand for:
"The Burnaby Business Excellence Awards is an award initiative […] which honors and celebrates businesses, entrepreneurs and not-for-profit organizations for their contributions to the local economy and community. [The Business of the Year award is given] to a Burnaby business employing up to 50 people which has made an outstanding contribution in the combined areas of business success, innovation and community service. "
Our COO, Chelsea Fitzpatrick, part of the third generation of the Fitzpatrick family to make Park Insurance her career, was honoured to accept the award on behalf of her family and team.  She was quick to credit the pivotal role played by her grandparents who started the family business in the 1960s. It was their goal to create a business that would leave a legacy for their children. They certainly achieved that and so much more as the business has continued to grow and thrive over the decades. She expressed her heartfelt appreciation for the foundation they laid. "A foundation that has enriched and influenced so many lives, up until today, and continues to do so."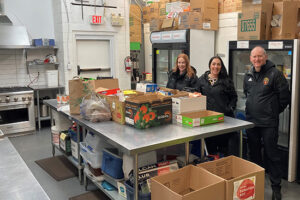 It is very important to our leadership team that this positive influence be felt by our employees, our clients and our greater community. The latter is at the heart of our vision, or more aptly, our commitment. We want the community to know that they can look to us in times of need. It's why we continue to share updates as we get involved with local organizations to host and/or assist with food drives, toy drives, and fundraisers, even if it means lacing-up our running shoes for a very rainy autumn day charity run! Through rain, sleet, and snow, we want to show up to give back to those who are responsible for helping make us who we are. Thank you!