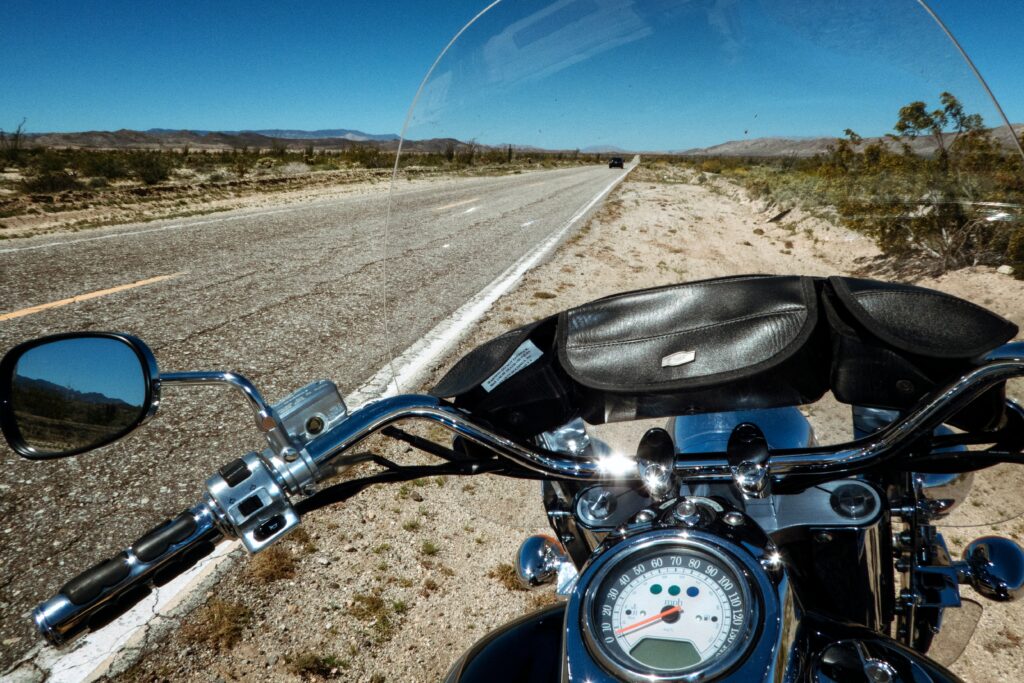 Do you have a motorcycle that's been put away all winter long? Are you dreaming of the day you can take it out of the garage again and hit the open road? Well, with Spring officially here that day is getting closer! Before you hit the road, ensure you protect yourself by having the right insurance coverage and ensure that you prioritize road safety. 
It's likely been a while since you've ridden your motorcycle, as we come out of winter and into spring. Before you hope back on, ensure you complete a thorough inspection. First, check your tires for wear and tear, and ensure both tires are properly inflated. 
Next, move on to your brakes. When's the last time your brake pads were changed? Are they in good, safe condition, or are they showing signs of damage or wear? From there it's important to check that all of your lights are working properly. Look and see if your headlights, taillights and turn signals are all in working order. If some have burnt out, you will need to replace them.
Finally, check your fluids! Fluid levels like brake, coolant, transmission, and clutch fluids can change over time. Set yourself up for success by ensuring these are all full before you bring your motorcycle out for the season. While you're at it, check for any parts that could have become rusty over time, and tend to them. 
Once you're ready to hit the road, contact your insurance provider to ensure you are adequately covered for the season. If anything has changed since your last policy, such as your home address or purpose of insuring your motorcycle, let your instance agent know so that it can be reflected on your policy.
If this is your first time insuring  a motorcycle, there are a few types of coverage you should be looking for: 
Liability – covers against injuries or damage that you may cause to other people or their property while riding your motorcycle

Collision – pays for any repairs to your motorcycle in the event that you are involved in an accident with another vehicle or object

Comprehensive – covers you for events such as vandalism, theft, or weather related incidents

Uninsured/Underinsured motorist – pays for damages or injuries you could sustain from another driver that is not insured, or underinsured.

Optional coverage – pays for damages to any custom parts or accessories you have added to your motorcycle. 
Before you head out on the road, read up on some motorcycle safety tips! Some of our top recommended tips are:
1. Wear the right gear!
Make sure your safety is a top priority. Helmets, face shields, gloves, and protective clothing are important while riding your motorcycle in the event of an accident. You only have one body, make sure it's protected!

2. Adopt a pre-ride safety checklist
As listed above, do a 360 check of your ride. Are all the fluids topped up? Are your lights working properly? Are your brakes in working order? The best thing you can do is double check these things in order to prevent surprises on the highway. If something seems off, make sure you take it to the shop before hitting the road.
3. Play by the rules
While riding a motorcycle provides you with the agility to slip through traffic jams, avoid the temptation! Doing so puts you at higher risk of being involved in an accident, and sometimes other motorists on the road won't see or expect you coming.
4. Review hazardous motorcycle zones
British Columbia is known for its beautiful, long winding roads – perfect for a day long motorcycle ride. However, some of those highways have some areas that are known for hazardous motorcycle areas. Take some time to review the ICBC motorcycle crash map before heading out on a ride so you can be prepared for hazardous roads.

If you are new to the motorcycle game, or haven't ridden one for a while and would like a refresher. ICBC has provided a "Learn To Ride Smart" guide on their website. Additionally, we also have a blog article that breaks down these safety tips more in depth.
No matter where you ride your motorcycle this year, we want to ensure you are protected. Get in touch with one of our brokers today for a no-obligation consultation.