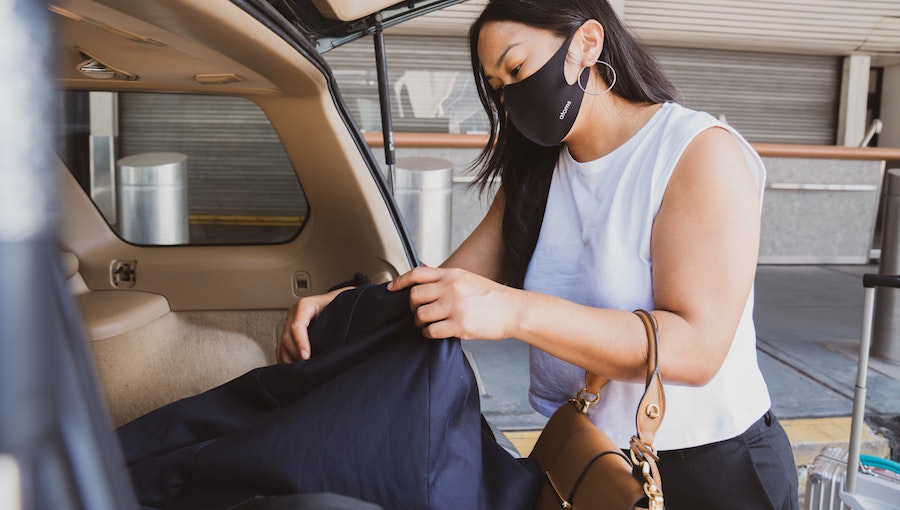 National and international travel within and from Canada has opened up across the country. Citizens are permitted to hop on planes, trains, and automobiles to almost anywhere they please (with a few caveats, of course). Each destination and form of travel will carry its own unique level of risk, so we encourage all travelers to keep up to date with the latest recommendations from the Government of Canada.
While we have always encouraged residents to be prepared with adequate insurance coverage, even for shopping jaunts from BC to WA, the requirement has never been more important than it is today. COVID-19 has fundamentally changed how people look at travel medical insurance. Prior to 2020, such policies were considered by some travelers as "good to haves", but as of 2021 (and beyond) it's as essential as your boarding pass.
We know you're excited to let your wanderlust wings fly once again, but before you book your ticket, gas-up, or charge your vehicle for cross-border adventures, please ensure that you're protected.
What BC Residents Need to Know About Travel Medical Insurance in the "Post-COVID" World of 2021-22 and Beyond
Where to Get COVID-19 Travel Medical Insurance
The first wave of COVID-19 travel medical coverage arrived in BC at around the same time last year (2020) when there was a lot of uncertainty about national/international travel and the health crisis. While it may not seem like it in some ways, things have changed for the better since then, and travel medical coverage has adapted accordingly. Through our TuGo Travel Insurance partner you are able to purchase emergency medical insurance that covers COVID-19 medical and related expenses in addition to traditional concerns.
You can buy TuGo's COVID-19 Travel Medical Insurance directly right here.
Get Covered
How to Qualify
Travel medical coverage for COVID is available for those who abide by COVID-19 vaccine protocols, as outlined by BC's Health Authority before leaving on your trip, and:
have been partially vaccinated, at least 14 days before departure, and

if available to you, have received or scheduled subsequent vaccine doses.
What about your kids? No need to fret, as coverage is also provided for children who are not yet eligible for a vaccine due to age.
There are certainly a few uncertainties that hover around a variety of scenarios, which are addressed in the following table (courtesy of TuGo):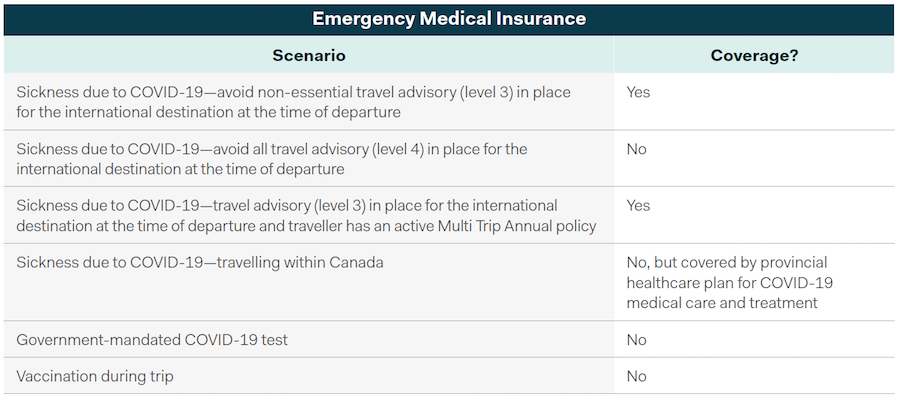 Do you have questions about any of the above? Just ask and we'll answer.
ASK PARK
What if You're Not Vaccinated?
Are you or someone in your household (aside from children who are not yet eligible for the vaccine) unvaccinated or have only received the first dose less than 14-days prior to departure? You can still buy emergency medical insurance, but you'll need to purchase the COVID-19 Insurance – Unvaccinated Plan. This policy is a separate plan that you can purchase with either Single Trip Worldwide, Single Trip Worldwide Excluding USA, or Multi Trip Annual Worldwide Emergency Medical plans. And like with the "vaccinated plan" there are scenarios that may impact coverage, including the following: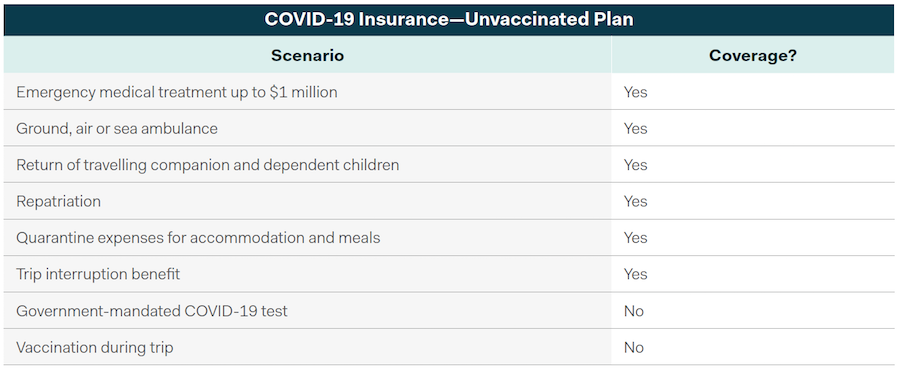 Please see the COVID-19 Insurance – Unvaccinated Endorsement in the policy wording for more information on eligibility and exclusions.
You can buy the TuGo COVID-19 Travel Medical – Unvaccinated Plan directly right here.
Get Covered
---
While purchasing COVID-19 travel medical coverage in BC has never been easier, we know that you may still prefer to speak with a broker before buying your policy directly. We're here for you. Contact Park Insurance today for clarity on any of the above, or for your other insurance needs.